Your Guide to a 3-Day Winter Getaway to the Black Hills
Is cabin fever creeping in with the cooler temperatures? Abundant snow, hundreds of miles of groomed trails, jaw-dropping scenery, warm, western South Dakota hospitality and a weekend getaway are the perfect solution to break those winter blues and safely roam.
Free-roaming bison, breathtaking parks and monuments, local breweries and cuisine, dazzling winter scenery and more are waiting. Use this three-day itinerary to make the most of the season with a getaway to the Black Hills and Badlands. Here, winter is yours for the taking.
Day 1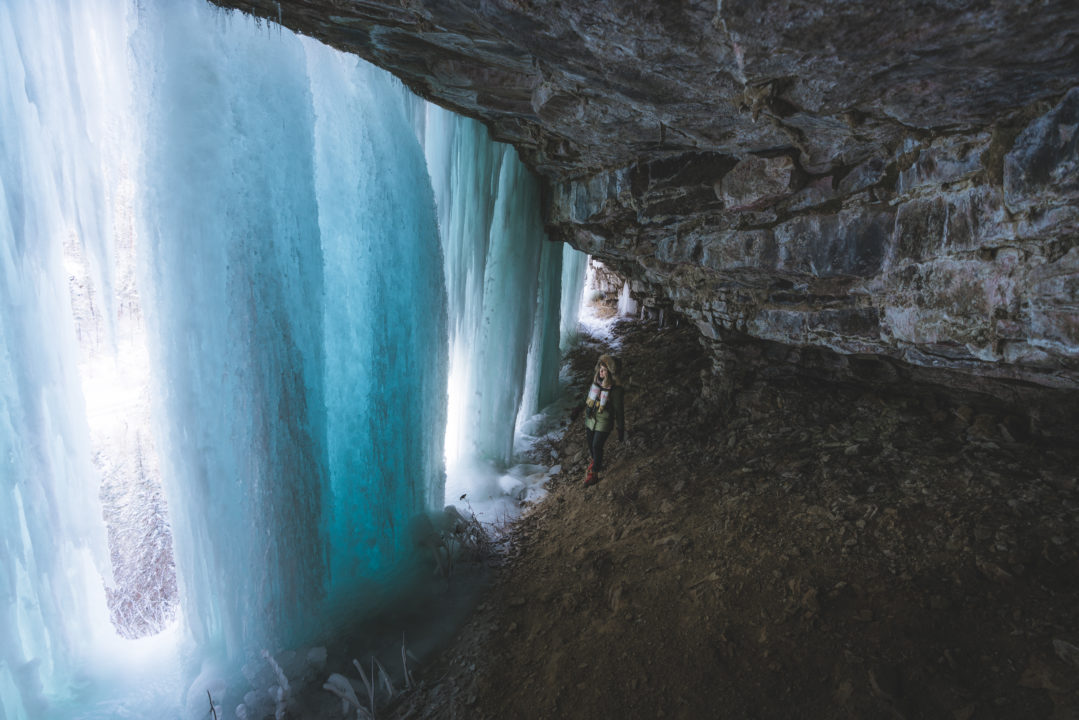 The best way to start your weekend adventure is with a trip through the winding limestone cliffs of Spearfish Canyon. Known for some of the most spectacular views and outdoor recreation in the Black Hills, Spearfish Canyon showcases all facets of winter beauty. Waterfalls, caves, and a lush covering of pine, spruce, aspen and birch make for a dazzling winter wonderland of exploration and adventure.
Begin your first day with a 19-mile scenic drive along the Spearfish Canyon Scenic Byway and stop to admire staples like Roughlock Falls, Bridal Veil Falls and Spearfish Falls along the way. It's best to stop and admire them all if you can, as each waterfall has its own unique history and flow through the Canyon.
For otherworldly winter hikes, stretch your legs and explore the nearby Community Caves and Baker's Cave. While both are steep, uphill hikes, each has rewarding views of the canyon and are often draped in thick curtains of ice. For this reason, they're a favorite of photographers and ice climbers.
Terry Peak Ski Area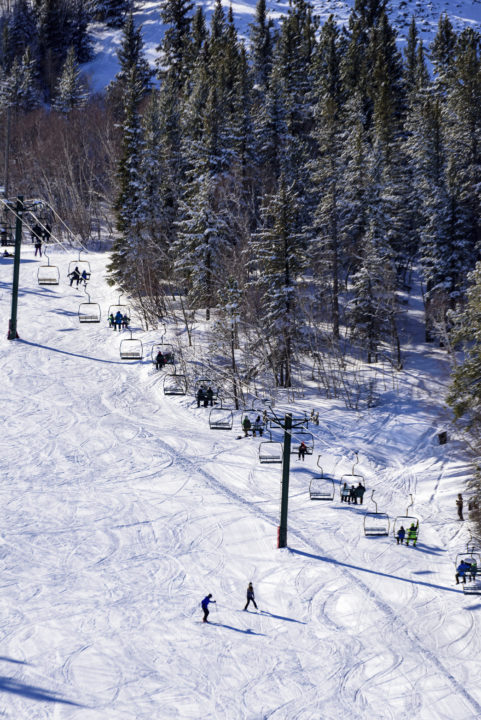 For faster, downhill activities, be sure to take advantage of the local ski area at Terry Peak outside of Lead. Annually receiving over 200 inches of snow, Terry Peak boasts almost 600 acres of ski territory with over 80 trails that total over 30 miles. This all translates to great variety, so whether its corduroy or moguls, terrain parks or some intense downhill, there's something for every member of the group to enjoy.
Full equipment rental and ski lessons are available, and when it's time to take a break and warm back up, a full restaurant and bar are onsite waiting for you. The best part? With minimal crowds and short lift wait times, it's easy to spend an entire day carving the mountain and socially distancing in the great outdoors.
Snowshoeing
To take it slow and soak in the area at a leisurely pace, try snowshoeing. A great way to fight the winter blues is to grab a pair of snowshoes and hit the trail. Don't have snowshoes? Not a problem! You can check out a pair at Custer State Park as well as at the Mickelson Trail Office in Lead. There are tons of trails to explore, and you can get away from crowds to enjoy the silence that snowy winter days offer.
Snowmobiling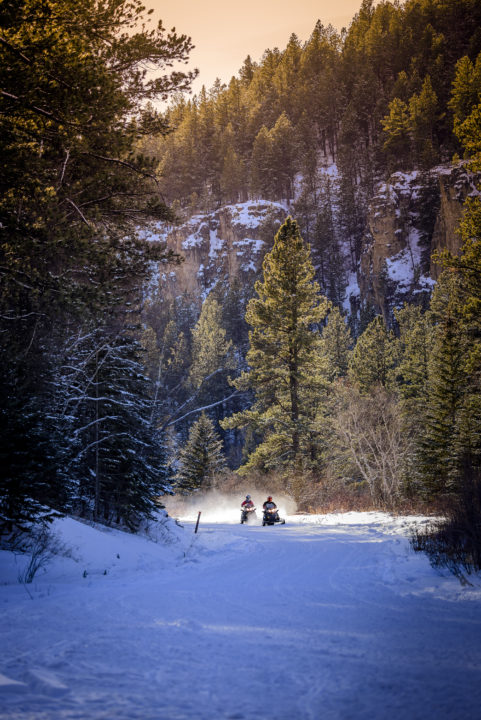 If motorsports are more your speed, thousands and thousands of square miles of forested mountains and valleys are contained within the Black Hills, and with an expansive, interconnected trail system, snowmobiles are a thrilling way to explore it all.
Much of the trail system is located in the Northern Black Hills but trails do go down as far south as Deerfield Lake outside of Hill City and into northeastern Wyoming. Be sure to look over the Black Hills Snowmobile Map to find trailheads and entry points near your accommodations. Many lodges sit right on or near the system, making it easy to unload your sled at your stay and jump right on.
Lodging and More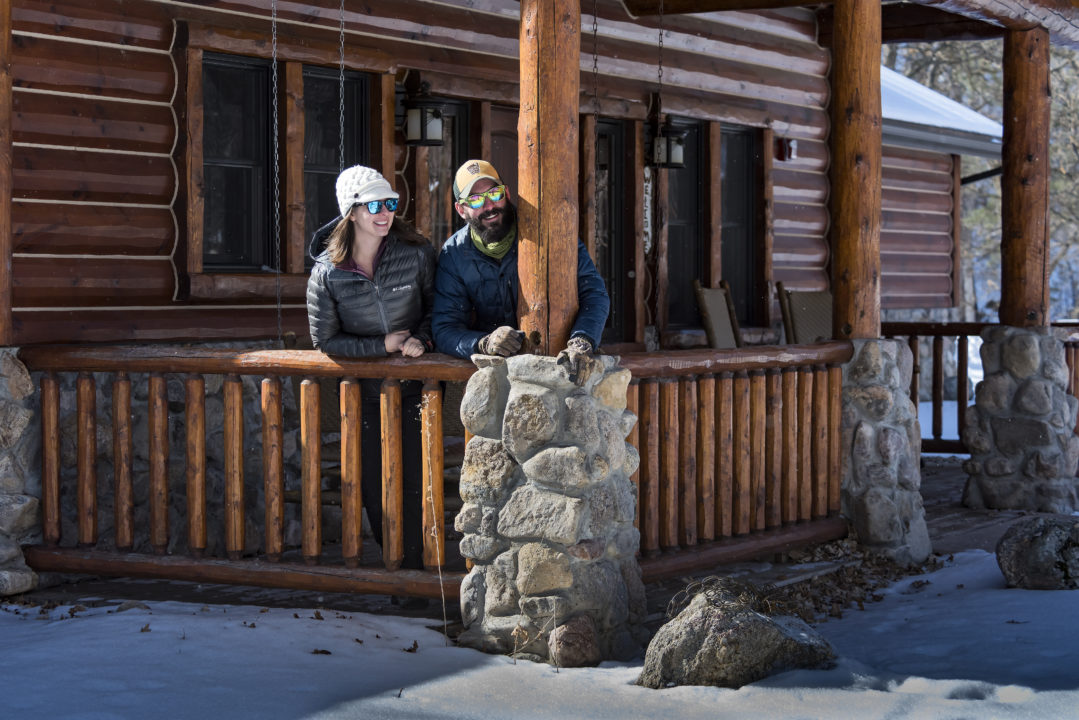 Many hotels/resorts on or near the trails have plenty of parking on site for your truck and trailer. Some even offer rentals and have everything you need for a day of playing outdoors in the Black Hills forest. For a full list of accommodations, see our Places to Stay page.
After playing in the snow, head into the nearby communities of Lead, Deadwood, Spearfish, Sturgis, Belle Fourche or Hulett for more amazing beer, wine and local cuisine. These great spots serve everything from burgers and beer to local wine, mouth-watering steaks and impressive fine dining.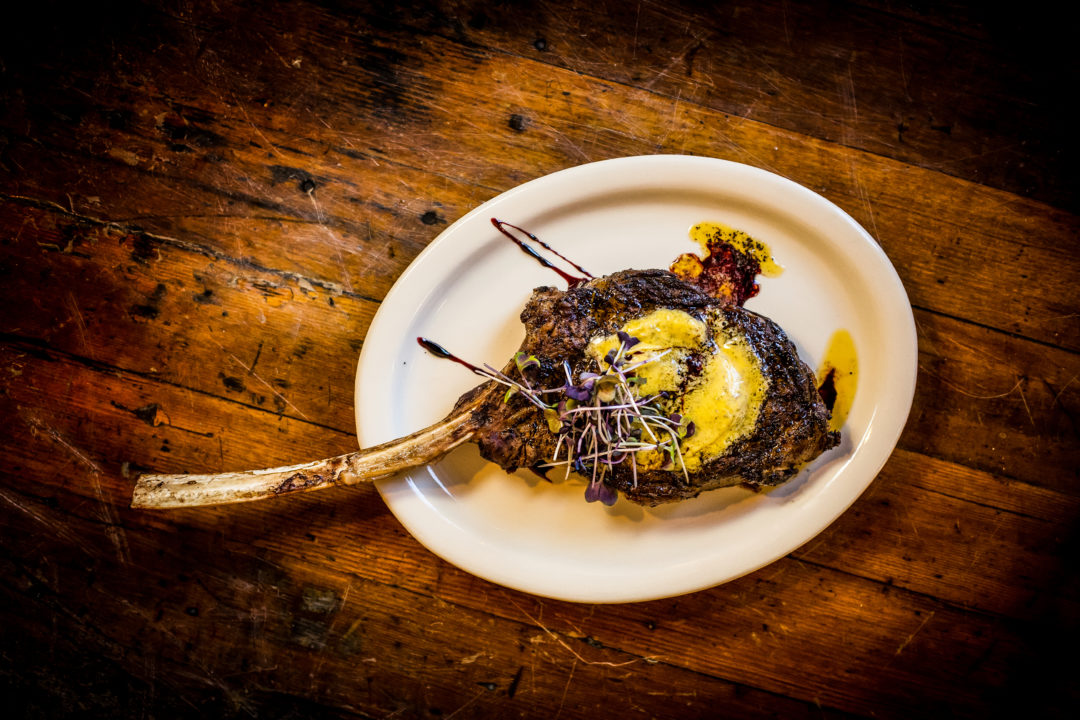 In addition to great dining options, Deadwood offers up great entertainment at its cozy casinos and gaming resorts. Games of chance can keep you busy well into the night with everything from poker and blackjack, to slots, craps, and roulette. There's a good chance you'll find a live band or two playing in one of the many casinos, bars or old-timey saloons as well. If you'd rather stay in the open air, stop by the city's new Outlaw Square for 'Glice' skating and take the city's self-guided tour to explore all the hidden secrets of the town's wild past. Afterwards, wind down your day with a warm drink and soak in the silence of the mountains and the million-dollar views.
Day 2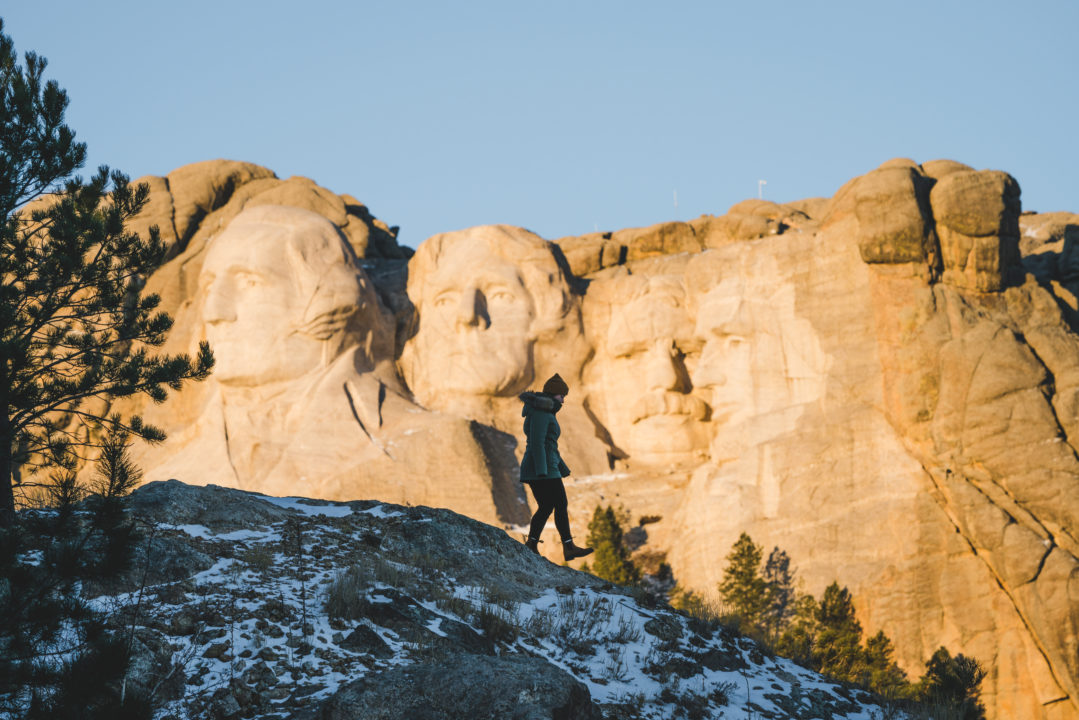 Start day two with one of the most memorable views of a lifetime: watching the sun rise over Mount Rushmore National Memorial. The early morning hour in the winter weather means fewer people will be there, but the view alone is worth experiencing. Take the winding Presidential trail to get the closest views of the monument and get the blood flowing in the early, chilly hours of the day.
Afterwards, take it easy with a scenic drive 18 miles down the road to Crazy Horse Memorial® and witness the World's Largest Mountain Carving in progress. Only five miles north to the town of Custer, the incredible mountain carving is open year-round and features the Indian Museum of North America, the Native American Educational and Cultural Center, the Sculptor's Studio Home and Workshop, and the Laughing Water Restaurant.
Two Caves Below the Surface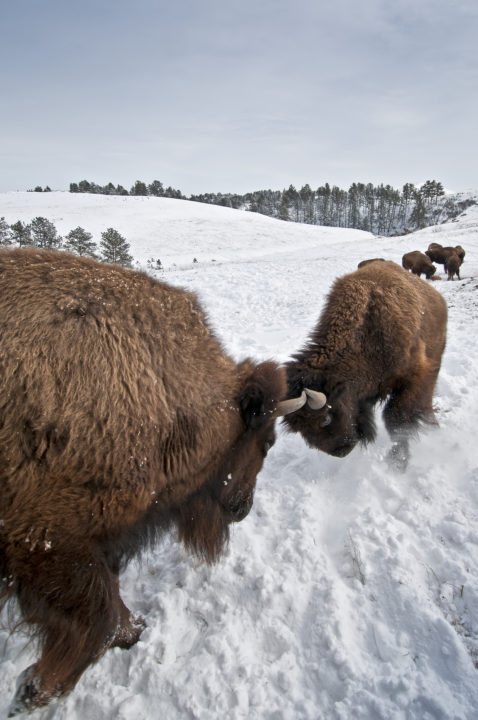 To further your tour of the area's remarkable parks and monuments, make your way to Jewel Cave National Monument and Wind Cave National Park. Though both of the caves are undergoing maintenance in 2020, the surface of each park is a delight to explore with abundant wildlife and expansive nature trails.
Wind Cave is a sight to behold, even on the surface. With one of the few remaining mixed-grass prairies left in the nation, one of the most genetically pure, free-roaming bison herds in the U.S., elk, prairie dogs, deer and more, the park is a joy to explore above and below ground. Whether you take a hike on one of the park's many trails or explore the scenery from the temperature-controlled interior of a vehicle, this national park is a must-see.
Custer State Park
Travelling back towards the Central Hills, be sure to round out your park tour with a trip through Custer State Park. Without a doubt, this state park is a South Dakota treasure. During the winter months, you'll have nearly 700 free-roaming bison, more than 50 miles of hiking trails and a variety of dazzling wildlife almost all to yourself.
If you're lucky, you'll get stuck in a South Dakota traffic jam, better known as a bison jam. These two-ton beasts often stick to the roads in the winter, in hopes of catching passing cars to lick off road salt stuck to bumpers and wheel wells. It's a unique way to experience these animals, but we remind you to keep your windows rolled up and to stay in your car.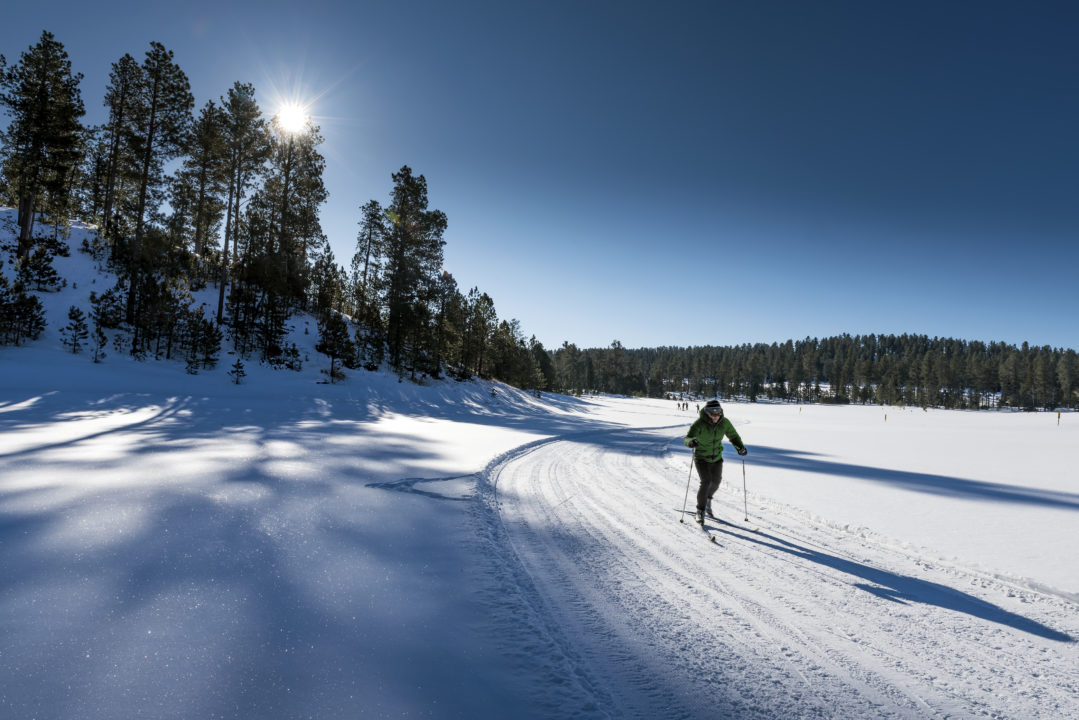 Besides wildlife viewing, the park's land is perfect for cross-country skiing, fat tire biking and snowshoeing. If weather permits, climb to the top of Black Elk Peak for a winter hiking challenge. As the highest peak east of the Rockies, it's the best viewing point in the entire region to see over the Black Hills. However you explore, the towering granite, dense pine forest and rolling mountains are sure to awe.
Once your day is done, be sure to check out some of the nearby wineries, breweries and amazing places to grab a bite in Keystone, Hill City, Custer and Hot Springs. There is some amazing local beer and wines to be had along with some great local game options like buffalo, elk and pheasant.
Day 3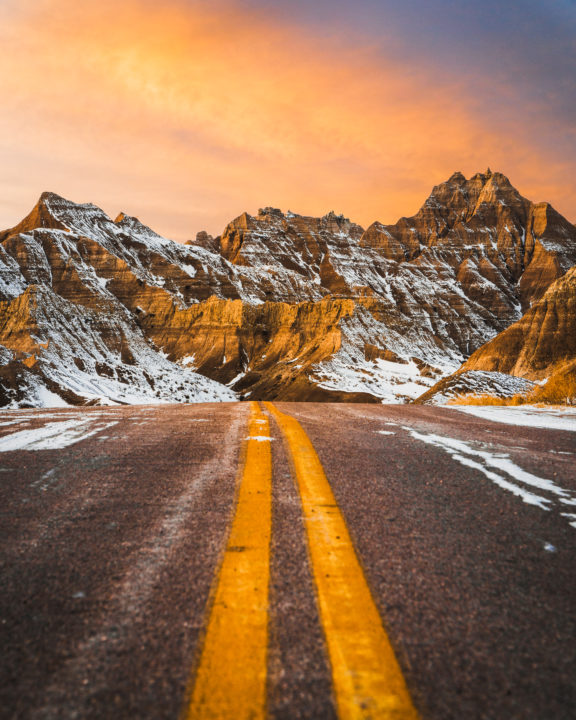 Your last morning in the region is dedicated to one of the most captivating national parks in the U.S. Filled with bison, prairie dogs, coyotes, bighorn sheep, deer and more, the craggy park is a wildlife paradise. Of course, the most rewarding view is watching the sun dance across the snow-filled moonscape. The sight is unlike anything else. Take a hike on one of the park's many trails to explore the frosty terrain, drive through the park or stop at one of the many scenic overlooks to just admire the impressive views.
As in many parks, wildlife is best spotted in the early hours of the morning, adding more motivation to greet the day early. You may have a chance to spot a few of the park's elusive bison in the morning, although the evenings and nights are just as impressive. Tour the park at sundown and wait to watch the Milky Way come out with minimal light pollution to ruin the galactic scenery.
Warm Up in Wall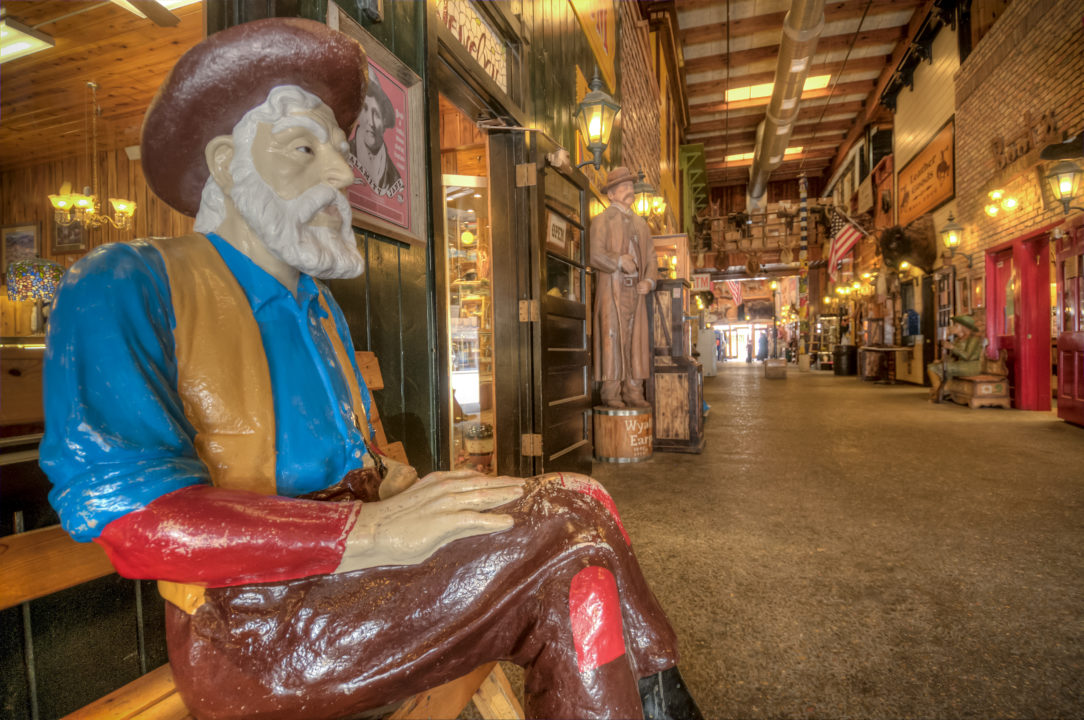 After your tour of the Badlands, warm up in Wall with a tour through the World Famous Wall Drug Store and a homemade donut. This small oasis in the Badlands is a perfect pitstop with plenty of great home cooking and roadside attractions to explore. Once you have your fix for donuts, giant jackalopes, dinosaurs and all the free ice water you can drink, head back to Rapid City and lace up your ice skates.
Exploring Rapid City
Located in downtown Rapid City, Main Street Square transforms into an outdoor skating rink every winter. Skate and explore the intricately carved Sculpture Project: Passage of Wind and Water. Grab a meal from one of the many downtown eateries and explore the art scene with landmarks like Art Alley, and the City of Presidents.
Once the sun goes down, take one of the best viewing spots in the city at Dinosaur Park to watch the cityscape transform, and even admire the shadow of the Black Hills off in the distance. Finally, wrap up your day at one of the local breweries or distilleries.
Whatever you choose to do in the Black Hills and Badlands, in whatever order you choose, it's sure to break you out of your winter blues and reignite your passion for adventure, travel and nature.