Handcrafted Details
Thollot & Co. is your next stop for fine jewelry and a brew.
Ask a Coloradan where they want to hang out and we'll bet that a brewery, the woods, or a local eatery are in the top three. A jewelry store, however, is unlikely to crack the top … well, it isn't a locale that typically hosts that chill Colorado vibe. The local husband and wife duo behind Thollot & Co. jewelry store in Thornton is out to change that.
When the 1,700-square-foot neighboring tenant in the Thollot & Co building decided to start a different venture in 2019, owners Joy and Troy Thollot took the opportunity to grow their showroom into an experiential shop where locals could peruse fine jewelry in a space without the stifling pressure of a high dollar purchase. "Jewelry stores are intimidating," Joy Thollot said. "We want to settle our customer's spirit before, during, and after their shopping experience." Cue the warm, easy-going Colorado craft brewery scene connection.
The store's décor hardly plays backup to the sparkling gems at Thollot & Co. The Thollot's mined the state for authentic renovation materials, and they struck gold, well, kind of. The ceilings are adorned with reclaimed wood accents from a Colorado gold mine. And, wood saved from Pullman cars, that delivered Coors brews from the Centennial State to California, make up the bar and high-top tables. These natural elements rid the shop of a sterile feeling replacing it with a neighborhood feel.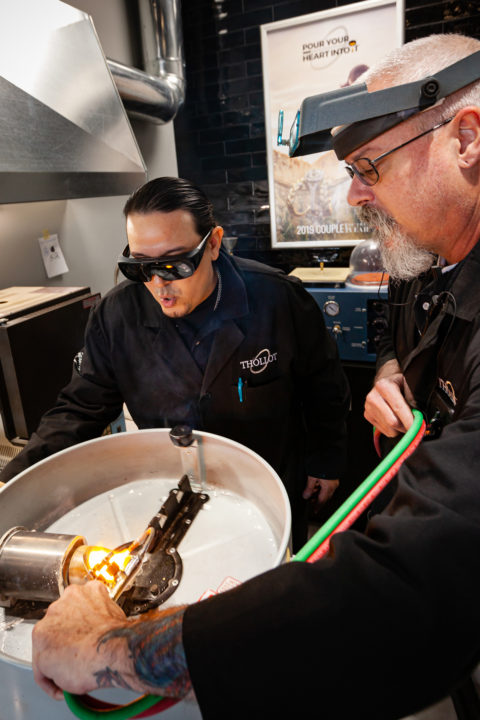 Customers can "bar hop" around the store. Customers can comfortably coast from the custom design bar and the jewelry repair bar to the bridal bar with semi-private booths and the last call bar for discontinued options. And, if a customer wants a more active role in the jewelry process, they'll trek to the casting bar. The casting bar offers a more hands-on ring-making experience, the Pour Your Heart into It™ casting bar allows individuals or couples the opportunity to pour the liquid metal directly into the ring's mold. Once it hardens, the customer can pull the ring out of the rough cast and be the first person to hold the newly-formed piece. "Most stores don't cast jewelry in-store," Joy Thollot said. "We are bench jewelers, not just a jewelry store. We want our customers to have an experience and give them a memory to go with their jewelry."
The Thollot's jewelry journey began when they were apprentice jewelers in Rockford, Illinois. After becoming GIA graduate gemologists, they moved to Colorado, grew their jewelry repair business from a single bedroom to a 16th Street Mall workshop, and created one of "America's Coolest Stores for 2020" according to a judged-panel from Instore Magazine. Each step along the way dialed in the kind of experience they want for each person who chooses to buy from them. "The motivation for our store comes with us participating in our customers' peak moments," Joy Thollot says. "We're relaxed and we want them to enjoy our store and celebrate whatever occasion that brings them in."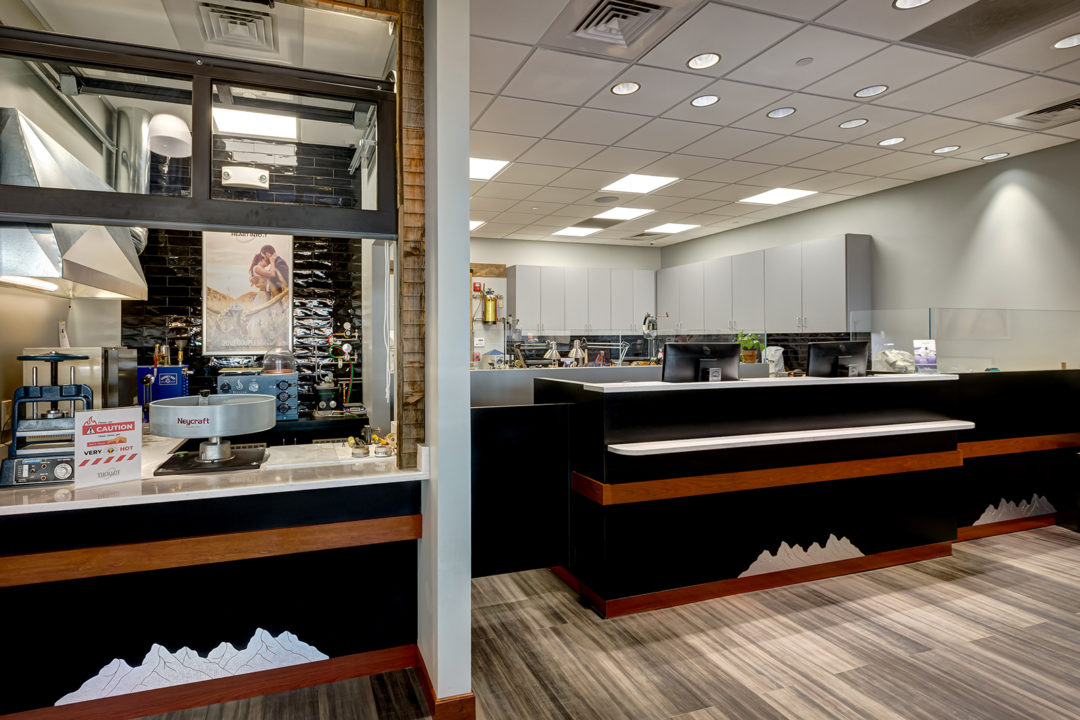 And if everything goes well, the Thollot duo, the staff, and their customers will all end up at the social bar to enjoy another handcrafted treasure from Thollot & Co.—one of their house-recipe, private label brews, like the Double Diamond IPA, Platinum Blond, and El Diente Golden Lager. Cheers!