A Classic Denver Venue for Your Modern Event
The Oxford Hotel Offers a Timeless Backdrop for Any Memorable Event.
Few Denver landmarks have endured the city's booms and busts with the grace of The Oxford Hotel. The impeccable terracotta and pink sandstone exterior and iconic Cruise Room martini bar provide the perfect backdrop to host an on-trend event in one of the city's most storied destinations. Whether it's an important executive getaway, a top-notch cocktail hour, or an intimate wedding reception, The Oxford Hotel's seven unique venue spaces offer a distinct setting to create just the right urban event. Take a peek at our favorite ways to inspire your event vision at this historic Denver locale.
Details in Décor: The classic palette and furnishings in the Oxford's more than 8,000 square feet of event space mean the vibe is up to the planner. Opt for lush, organic-feeling greenery or more timeless, composed floral centerpieces. Create an authentic branding opportunity—cue the selfies—with a customizable photo corner featuring a wedding hashtag or organization's message. Charm attendees with luxurious velvet table linens or stick to a minimalist design of natural elements. From The Oxford Theater, which sports a second-story balcony, to the airy Sage Room, each venue creates an opportunity for planners to build around the historic, light-filled spaces.
Menus with a Story: Enjoy locally-sourced cuisine to stay true to the venue's local roots. Chris Starkus, the executive chef behind Urban Farmer Denver and The Oxford Hotel's catering team, focuses on sustainability and local-sourcing. He embodies this ethos; cultivating many of his own ingredients at his Lakewood farm, producing honey from the rooftop of The Oxford Hotel, and leading his Urban Farmer team to offer outstanding socially-conscious dining in downtown Denver. The culinary team ensures guests experience the story and purpose behind each plate, offering a fresh take on the best of Colorado's farms and ranches. Choose your favorite eats from pre-set menus to fully-customizable catering selections presented in creative small bites, intimate plated meals, or large buffet displays. For a crowd, don't miss the interactive chef action stations, including the signature New York Steak Tasting—a sampling of three finishes of carved beef.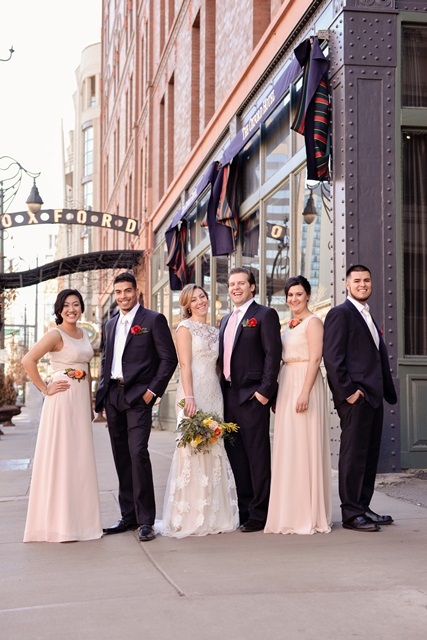 Stay, Why Don't You: Whether it's an evening celebrating Denver's newest married couple or busting through a long day of board meetings, event guests should indulge in an overnight stay in the city's most historic hotel. Guests of the 80-room boutique hotel will find no need to duck out of The Oxford's iconic arch to find a happy hour … just head to the lobby. The Laws Whiskey Bourbon Bar is offered nightly from 5:30-7:00p.m. for guests, pouring The Oxford's signature custom blend from Laws Whiskey, The 1891 Bourbon. Event hosts can treat their lucky guests to the 100 percent, Colorado-based whiskey as a personalized take-home keepsake. And if relaxation finds itself on the agenda, make a beeline for The Oxford Club, Spa & Salon. The Bee My Honey body treatment includes a house-made honey scrub with honey made from the beehives located on the hotel's roof. Consider it the next level farm-to-table … farm-to-facial.