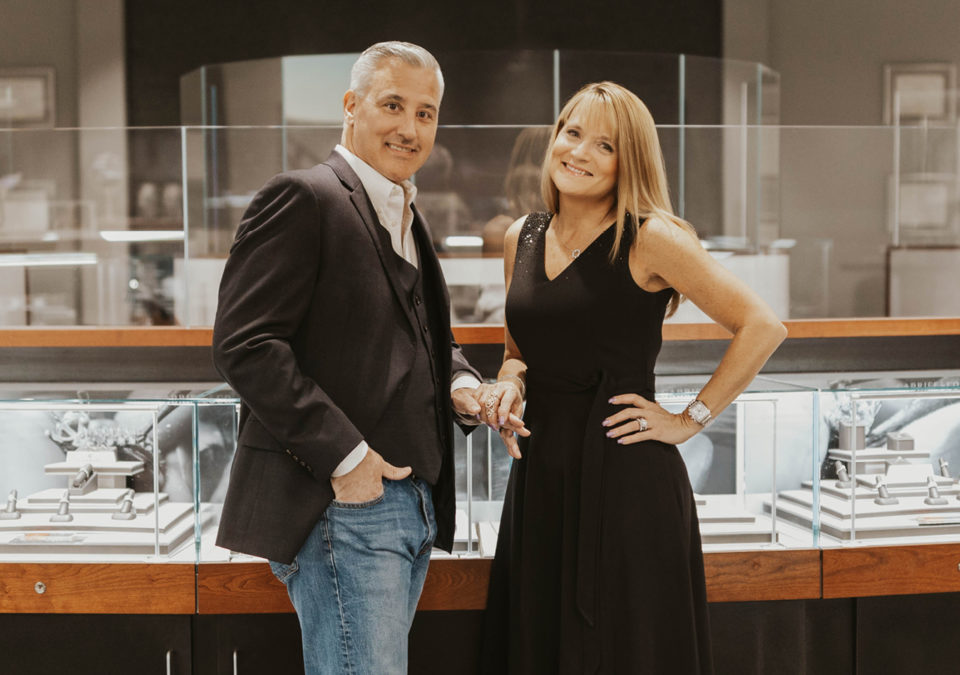 The Faces of Fine Jewelry 
Joy & Troy Thollot, THOLLOT & CO.
In 2019, Joy and Troy Thollot, the local husband and wife duo behind Thollot & Co. jewelry, began the adventure of expanding their showroom into an experiential shop where locals could peruse fine jewelry in a space without the stifling pressure of a high dollar purchase. "Jewelry stores are intimidating," Joy Thollot says. "We want to settle our customer's spirit before, during, and after their shopping experience." Cue the warm, easy-going Colorado craft brewery scene connection.
Customers can "bar hop" around the store—comfortably coasting from the custom design bar to the jewelry repair bar to the bridal bar. And, if a customer wants a more active role in the jewelry process, they'll trek to the casting bar, offering a more hands-on ring-making experience. The Pour Your Heart into It™ casting bar allows individuals or couples the opportunity to pour the liquid metal directly into the ring's mold.
After becoming GIA graduate gemologists, The Thollots moved to Colorado, grew their jewelry repair business from a single bedroom to a 16th Street Mall workshop, and created one of "America's Coolest Stores for 2020" according to a judged-panel from Instore Magazine.
And if everything goes well, the Thollot duo, the staff, and their customers will all end up at the social bar to enjoy another handcrafted treasure from Thollot & Co.—one of their house-recipe, private label brews, like the Double Diamond IPA, Platinum Blond, and El Diente Golden Lager. Cheers!
(303) 280-3374
3790 E. 104th Avenue
Thornton, CO 80233