Fall in the Black Hills and Badlands: Unparalleled Experience
Fall is just around the corner. Autumn's crisp air and bright colors beckon travelers to spend a day — or weekend — embracing the outdoors, snapping photos of the spectacular displays of fall foliage and celebrating at harvest festivals. The Black Hills and Badlands of South Dakota are filled with inspiration for embracing the transition into autumn, offering a cornucopia of experiences.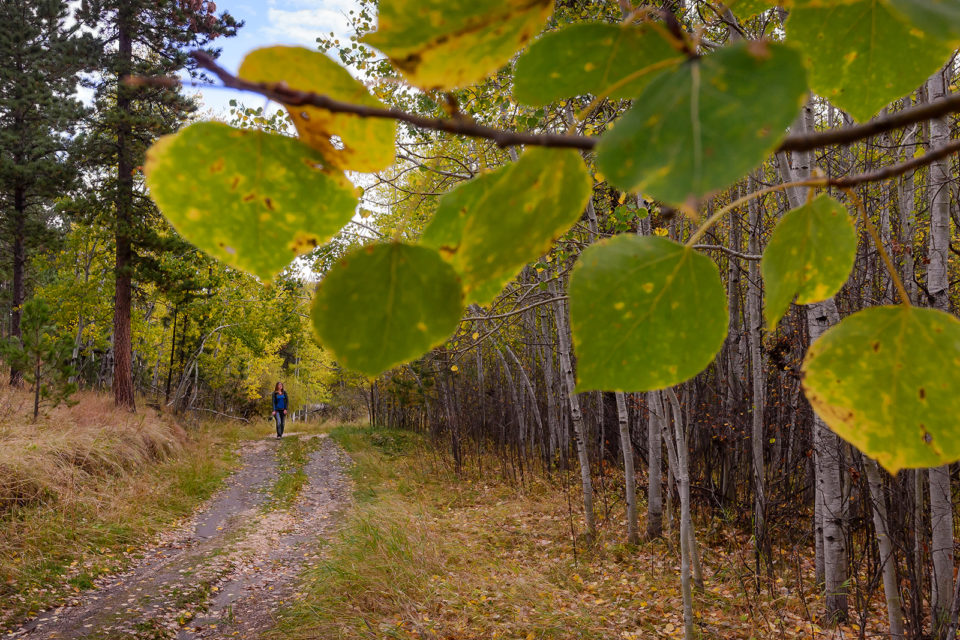 LEAF PEEPING ON SCENIC DRIVES
Vivid red and shimmering gold leaves on tree-lined hills set the stage for an unforgettable drive on meandering roads in the Black Hills National Forest. Discover abundant fall beauty on four major routes bursting with autumn colors. Take the scenic route to see how windshield time can become the most electrifying part of your vacation.
Spearfish Canyon Scenic Byway
Waterfalls, hiking trails, and limestone cliffs with jagged peaks line this 20-mile route on U.S. Highway 14A.
Vanocker Canyon
Birch and aspen provide a glowing backdrop on this 17-mile drive on Forest Service Road 26.
Boulder Canyon
Take U.S. Highway 14A for a short, 12-mile drive on a high-walled, valley road filled with colors of autumn.
Belle Fourche to Devils Tower National Monument
This 52-mile route on Highway 34 offers rolling landscapes with abundant fall beauty.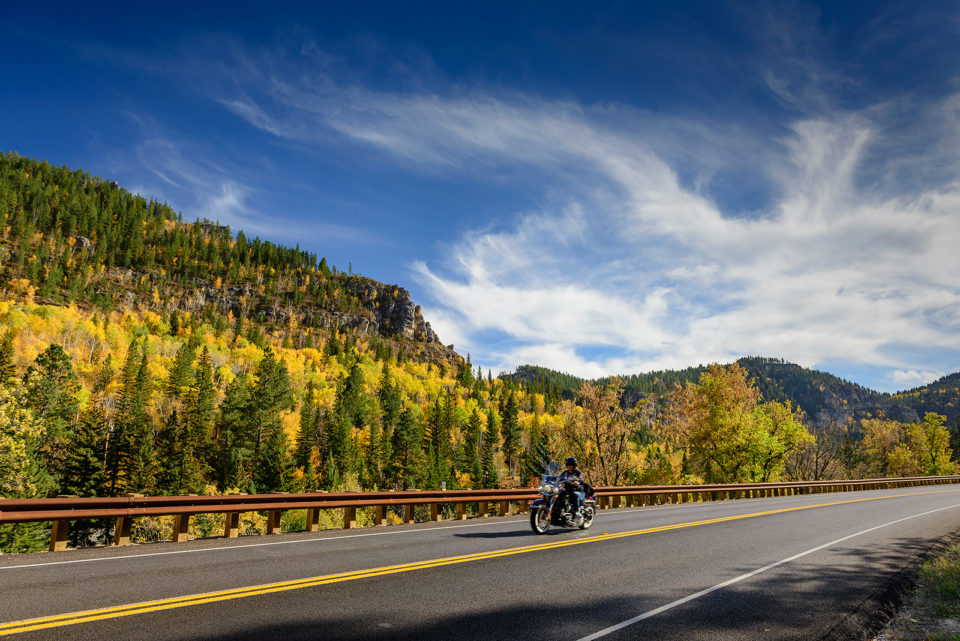 AUTUMN ADVENTURE
Towering granite peaks. Thousands of trail miles. Millions of acres of national forest and parks. The Black Hills and Badlands hold more space for outdoor adventure than you could shake a pine-needled stick at. Whether you're into adrenaline-soaked trail rides, easygoing hikes, fantastic wildlife, or calendar worthy scenery, you'll leave feeling refreshed and rejuvenated.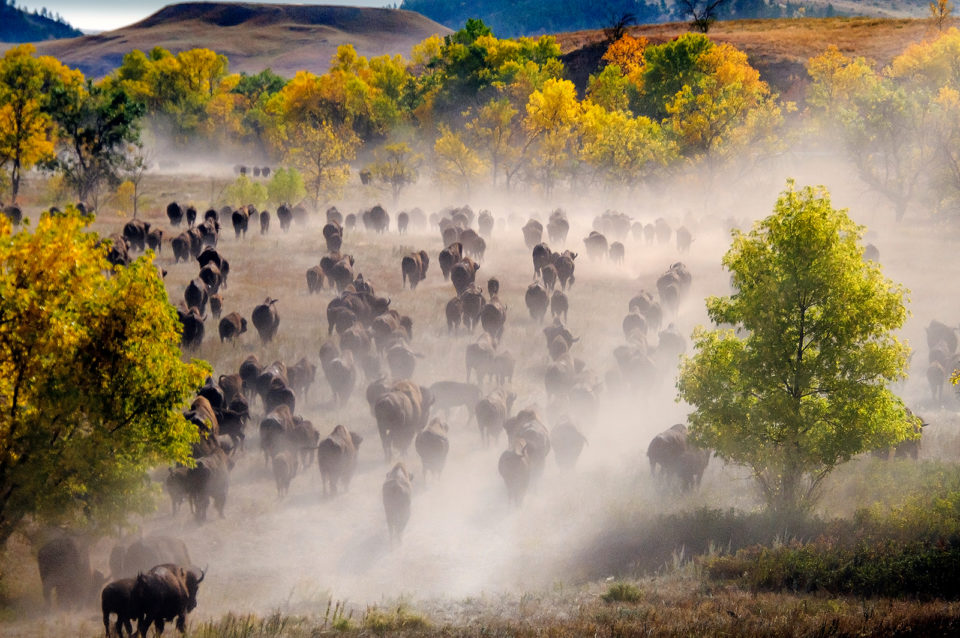 FEWER CROWDS
The time between traditional peak and off-peak travel means fewer crowds, off-peak prices, and more lodging options for fall travelers. Be sure to take advantage of shorter lines at even the most popular attractions.
There's plenty of room to rest easy in the Black Hills and Badlands. Choose from a bounty of options, eagerly anticipating your stay. From trusted hotel brands to cozy cabins, your memories will last long beyond checkout.
PARKS & MONUMENTS
Carve out your next monumental excursion in western South Dakota's parks and monuments. When it comes to the four faces carved high on Mount Rushmore National Memorial, the towering Cathedral Spires of Custer State Park, the wondrous caverns of Wind Cave National Park, and the otherworldly buttes of Badlands National Park, seeing is truly believing.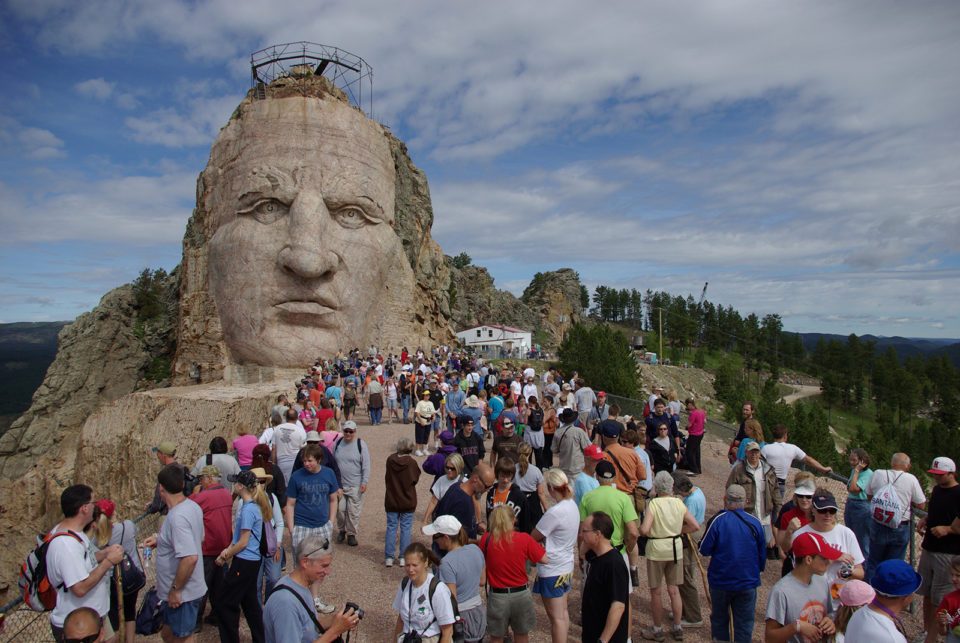 EVENTS GALORE
Celebrate the fall harvest at family-friendly festivals, sample seasonal libations with friends at local breweries and wineries, or feel the rush of over 1,000 bison thundering past you. Plan your travels around the many Black Hills and Badlands events that quickly turn into annual traditions. Be sure to add these to your list:
CUSTER STATE PARK BUFFALO ROUNDUP & ARTS FESTIVAL
Thursday, Sept. 24, 2020, to Saturday, Sept. 26, 2020
More Info
GREAT DOWNTOWN PUMPKIN FESTIVAL
Saturday, Sept. 26, 2020
More Info
FALL VOLKSMARCH AT CRAZY HORSE MEMORIAL®️
Sunday, Sept. 27, 2020
More Info
DEADWEIRD
Friday, Oct. 30, 2020, to Saturday, Oct. 31, 2020
More Info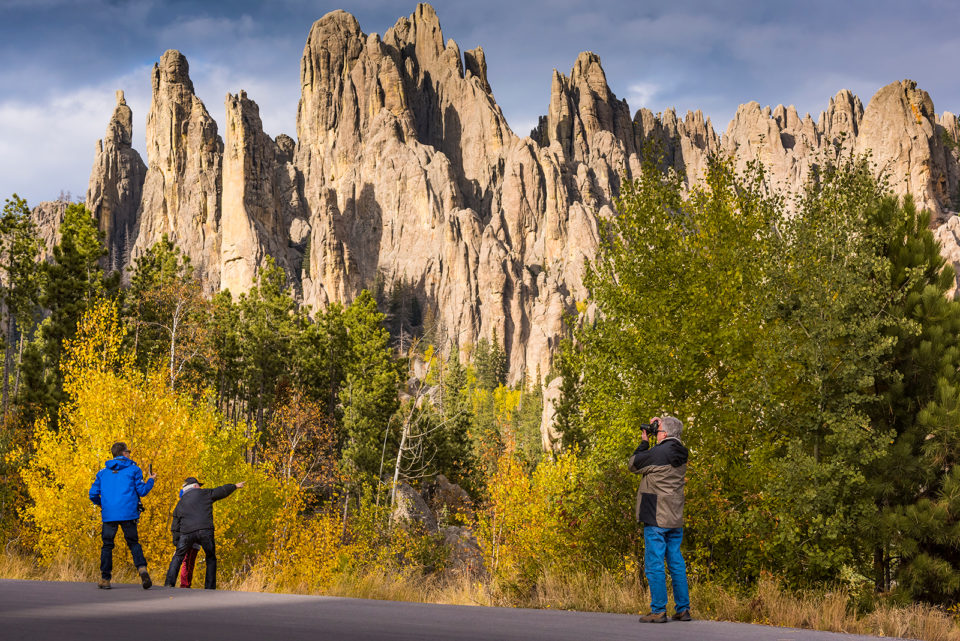 ---
For a complete list of fall happenings, check out our events calendar.
A visit to the Black Hills and Badlands will have you quickly planning your next trip. Share your fall vacation with #DiscoverBlackHills.