Change the world at Regis University
All change starts locally and the best place to start is local, too. Regis University's undergraduate and graduate programs will spark your passion into action.
What Difference Will You Make? If you could change one thing, what would it be? Now take away the "if." You have more power to change the world than you may realize. Skeptics abound who'll insist that one person can't make a difference. Don't listen to them.
Doing Nothing is Not an Option.
After all, local and global change often begins with just one person. Remember Rosa Parks? Her refusal to surrender her bus seat became the catalyst for the civil rights movement. Actress Alyssa Milano brought national attention to the #MeToo movement by encouraging the use of a hashtag. Away from fame's spotlight, a young man named Derreck Kayango started Global Soap Project to help needy people around the world stave off disease.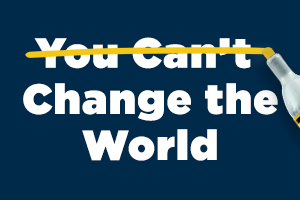 Change has to begin somewhere, and more often than not, it begins with a brave and passionate individual. As of this writing, there are any number of local and global challenges waiting for someone to step up and change history. Poverty, access to health care, pay inequality, environmental threats, female genital mutilation – the list goes on and on.
Back to you. What's it going to be? What are you passionate about?
At Regis University, that simple question is a pivotal starting point for almost everything we do. Our Jesuit Catholic roots give us a unique approach to both undergraduate and graduate education. As we question the modus operandi of our world – and our lives – our approach to finding a better way comes through in every program we offer. Whether you study nursing or nonprofit management, education or environmental biology, or any other major, you'll learn from a worldview centered on ethics and social responsibility. You'll tackle real-world problems by asking, "How ought we to live?" – learning to approach ideas creatively, effectively and ethically in the process.
It's true that a Regis education will help you prepare for a brighter future and a successful career; but it'll also transcend those goals. We give students the tools to become better leaders in their field, but we also want to help them become better human beings.
If you think of it in terms of supply and demand, the need is definitely there. The world needs business leaders who'll profit all of humanity. It needs health care professionals determined to cure the health care system itself. Schools need teachers who'll close the achievement gap. And the technology sector needs software engineers who'll upgrade the human condition.
Change the world at Regis University
Regis University's unique approach will empower you to make a difference you care about. No matter what you study or what career you pursue, compassion is a trait that'll set you apart from your peers. We're committed to nothing less than creating the next generation of visionary leaders. Join us. If change is something you're passionate about, take the first step. You can take online, on-campus or evening classes. Find a program with a purpose.