The Age-Old Battle of Cannabis vs. Alcohol
Marijuana's Life as the Underdog.
A great debate is being waged in Colorado. Since the legalization of recreational and medical cannabis in our state, media outlets, locals and visitors have been asking the question—which is better, cannabis or alcohol? Regardless of your opinion on the subject, a glaring flaw exists in the argument: there is no comparing the two. Apples and oranges have more in common than cannabis and booze.
Too often, cannabis receives the short end of the stick in this great debate, and history has not been kind to our favorite plant. Throughout modern history, marijuana has been unfairly demonized, pegged as an unhealthy, unpredictable and dangerous drug—and a gateway to serious substance abuse. Fortunately, today, through science, statistics and real life experience, most of us realize the inaccuracies of the past, and a growing percentage of state and local governments have begun to embrace this transformational plant.
Cannabis is now fully legal in nine states, as well as in Washington D.C., and a total of 30 states have legalized cannabis for medical consumption. But while the tide appears to be shifting as research and evidence mounts in support of cannabis legalization, weed is still trying to shake the stigma of yesteryear, while alcohol is welcomed with a smile and a nod.
So, which is better—or worse—cannabis or alcohol? Let's find out.
Spoiler Alert: Cannabis Comes Out On Top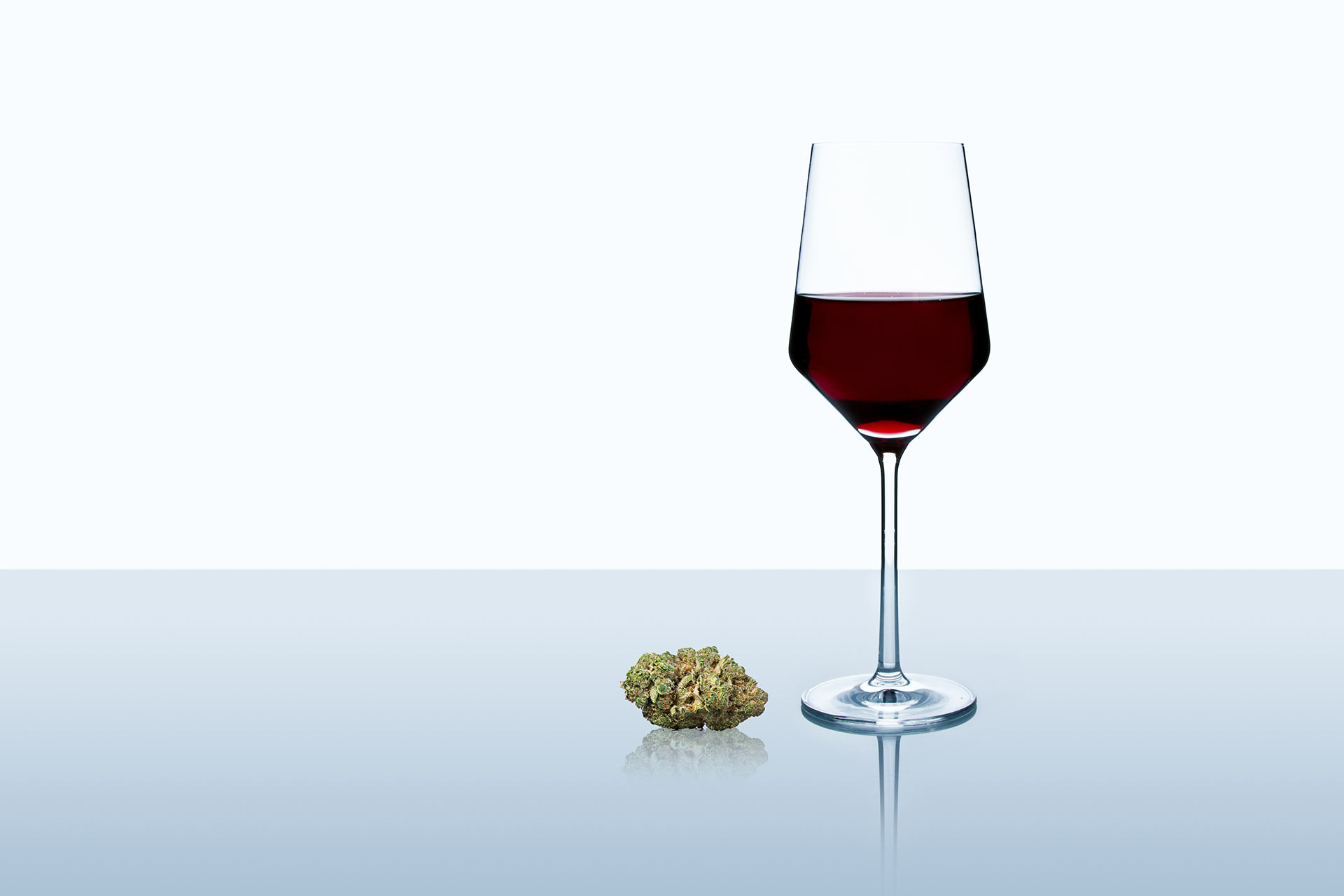 First, let's get something straight. This is not a condemnation of booze. We love beer, Colorado is full of craft breweries, and, who wouldn't enjoy a hot toddy on a frigid winter evening, or a glass of wine at the end of a workday? We're not hating on wine, beer, or spirits.
Now that we've cleared the air, let's take an analytical look at the impact of both alcohol and cannabis on your health. Here comes the spoiler alert: the numbers don't look great for alcohol.
A study released last month might be the nail in the coffin for alcohol (at least for us). Published by the Lancet Medical Journal, the 26-year-long study points to alcohol consumption as one of the leading factors in global health decline, contributing to 2.8 million deaths worldwide, annually. The study shows that alcohol consumption was the "seventh leading risk factor for premature death and disability in 2016…". Here comes the bad news, the study concludes no amount of alcohol is safe:
"…the level of consumption that minimizes health loss is zero."
Can you hear the sound of a microphone dropping?
The study cites psychological conditions, liver disease, cardiovascular concerns, cancer and more, as health issues related directly to alcohol consumption.  
The general consensus among the scientific community is that more research needs to be done surrounding the health impact of cannabis. We do know, however, with near-absolute certainty, that the contrast between alcohol and marijuana in terms of its impact on health is stark. And, contrary to popular opinion, booze is more likely to pack on the pounds than cannabis (cannabis= zero calories, alcohol= packed with calories).
Fact: it is not possible for a cannabis consumer to die as the result of an overdose (National Cancer Institute).
Fact: the DEA has not reported a single death related to the consumption of cannabis.
Fact: the American Journal of Public Health has concluded cannabis consumption has no effect on premature fatality rates when compared to non-cannabis consumers—consuming cannabis does not correlate to a likelihood of premature death.
Similar studies have concluded that alcohol consumption does more harm to the brain than cannabis, can contribute to obesity, and as most of us know, often leads to one killer hangover.
Pro Tip: cannabis has been shown to take the edge off of a killer headache, just saying.
A Shift Towards Health
With evidence pointing toward cannabis as a healthier option to relieve daily stressors (and more serious issues) when pitted against alcohol, it's important to understand what drives most of us to drink and how you can swap those glasses of wine for a mellow dose of cannabis.
Most people pull the cork on a bottle of wine to relieve stress or to reduce anxiety—and sometimes, of course, for the taste. While booze may prove effective in the short-term for blurring the memory of a hard day, the long-term consequences can have an impact that far outlasts the memory of your stressful week.
"Heavy alcohol consumption lowers mood, disrupts sleep, [and] increases anxiety…"—Oxford Academy
To the contrary, cannabis is a mood elevator, a sleep aid, and helps with relaxation—with no lasting effects. A team of researchers in Chicago conducted a study that reveals micro-dosing cannabis can reduce stress, relieve tension, and wipe away anxiety. How's that glass of wine looking?
Given the evidence, it comes as no surprise that growing numbers of Coloradans are opting to swap the glasses of wine for cannabis. And, with the emergence of new consumption methods, like edibles, tinctures, topicals, transdermals, and even beverages, there are countless ways to successfully work cannabis into your life.
A Wide World Of Options
Why does cannabis make some people uncomfortable? Aside from the obvious stigma, many hesitate because they simply don't want to smoke.
We have good news: you don't have to smoke cannabis.
There are plenty of ways to relieve tension, peak creativity, and inspire rest through cannabis consumption—without picking up the pipe (and without getting high). We mentioned a few of the options earlier: edibles, tinctures, topicals, transdermals, and infused beverages.
Let's dig a little deeper.
Vape pens are a great option and while it can feel like you're 'smoking' cannabis—you're not. You are simply inhaling vapor.
Edibles, in the form of gummies, granola, drinks, mints, truffles and chocolates are popular options because they are discrete AND delicious. Salves, lotions and balms provide relaxation and general pain relief to specific areas, without the psychoactive effects people typically associate with cannabis consumption, while concentrates such as live resin and shatter can provide a more intense experience (not for the uninitiated).
If any of these terms are foreign to you, don't worry— our budtenders will walk you through every option.
Experience for yourself what a switch from alcohol to cannabis can do for you. Lightshade kicked off a challenge that has people putting down their drinks and opting for a dissolvable THC:CBD product, tincture or vape to take the edge off. Drop by our site to learn more about the challenge and for product recommendations, mocktail recipes.
About Lightshade:
Established in 2011, Lightshade is Colorado's premier dispensary with eight locations across Denver and Aurora. Lightshade offers the mile-high city's best selection of top-shelf cannabis products including proprietary and ambassador strains, edibles, concentrates, tinctures, topicals, and cannabis-related merchandise.
Lightshade serves 21+ adult customers at each of their eight locations, and 21+ medical patients at the Peoria, Dayton, Sheridan, and Holly stores. Lightshade provides ongoing education to staff members surrounding all products and processes to ensure every budtender is trained and ready to make recommendations tailored to each customer's unique needs, and they are committed to supporting the community through their comprehensive CSR program.