4 Ways to Rid Yourself of Seasonal Stress with Cannabis
Don't run to the wine shop this holiday season—run to the dispensary.
Autumn, the season of falling leaves, is in full swing in the Centennial state. We've set our clocks back, pulled winter bedding from storage, and transitioned from the sun-soaked meals of summer to the hearty earth-toned soups and stews of fall and winter.
The joy of fall is experienced first by our senses. A smile lights ones face as the taste of fatty bone broth touches the lips, our olfactory senses come alive with the scent of baking spices and damp earth, and our ears find comfort in the sound of crackling leaves (or crunching snow) underfoot. These associations hold significant meaning, reminding us of childhood memories, and (hopefully) fond remembrances of seasonal family gatherings.
"Season of mists and mellow fruitfulness,
Close bosom-friend of the maturing sun;
Conspiring with him how to load and bless
With fruit the vines that round the thatch-eves run;
To bend with apples the moss'd cottage-trees,
And fill all fruit with ripeness to the core;
To swell the gourd, and plump the hazel shells
With a sweet kernel; to set budding more,
And still more, later flowers for the bees,
Until they think warm days will never cease,
For summer has o'er-brimm'd their clammy cells"
—From "To Autumn," John Keats
Fall and Winter family gatherings: beloved and derided in equal measure.
For some, preparing for the holidays is fantastically rewarding. To others, the thought of gathering with family and close friends is enough to send a person running for the nearest bottle of wine.
It can sometimes feel mandatory to love fall. Everywhere you turn the discussion leads to pumpkin spice lattes, holiday plans, and sweater weather. If you find seasonal changes difficult, you're not alone. For countless people, the transition to fall is hard and the move into winter even harder. Fortunately, with a little assistance from our favorite plant, the imminent worries and stress of this season can take a back seat to joy and comfort (without the added calories and potential headache a bottle of wine might bring).
As we "fall back" into an extra hour of darkness, and you map out your holiday survival strategy, this year, consider including cannabis as your preferred stress reliever. To help, we've put together this short list of canna-centric experiences to keep you on track for a great holiday season.
"During the holidays, there is an increase in the number of activities, tasks, and social events that people must manage. Shopping and gift buying can cause financial and emotional stress and can create a need to manage crowds, traffic, and malls or large stores. Family, school, neighborhood and work celebrations create social, time, and energy demands. Traveling to be with family and friends for the holidays can cause a variety of additional stress."—Anita Sanz, Psychologist (via Forbes)
Cannabis—the hero of your holiday season.
1. Bundle-up for an elevated stroll to clear your head.
If family and friends become too much to handle, it's ok to leave for a while. Put on your coat, gloves, and cap, and set out for a solo walk around the neighborhood. Cannabis heightens your senses amplifying the allure of autumn colors (or what's left of them) and the appeal of fresh snow. Before stepping out the d
oor, take a pull from a vape pen and drift slowly through your neighborhood. This consumption method is discrete, meaning your friends, family, and neighbors will be none the wiser, and you'll be on your way to an improved mindset.
*We recently polled Lightshade store managers to learn about their favorite cannabis vape products. Click here to find out what they picked.
2. Embrace (don't run from) shorter days and darker, colder evenings.
It's easy to slip into a depressive mood during the long, dark days of late fall and winter, but this doesn't have to be your reality. This season is an opportunity for rejuvenation. Take time for self-care in the comfort of your home, far from the madness of Black Friday and your family. Cannabis is the ideal companion for this seasonal recharge. Cozy up beneath a blanket with your favorite record playing, and indulge in a solo smoke session with a premium strain from Lightshade. Your stress will literally go up in smoke.
*We recommend a bowl packed with one of our premium strains to ease the tension of this holiday season without dulling your senses.
3. Sleep the stress away.
Countless studies have shown the importance of sleep. Our bodies and minds depend on this nightly reset to defend, relax, and repair for the day(s) ahead. During periods of high-stress, like the holidays, it can be hard to find restful sleep. When counting sheep isn't doing the trick, reach for an all-natural remedy. Cannabis is proven to be a safe and effective aid for restful sleep. As you prepare for bed, eat a cannabis gummy or infused chocolate, and you'll wake the next morning feeling revived and ready to tackle your in-laws who are in town for the holidays.
*Trouble getting to sleep? Try 'Midnight' cannabis-infused chocolates from 1906. You can thank us later.
Pro tip: Edibles aren't only for sleep, they can be great for daytime consumption as well. Our budtenders can recommend the right product to suit the time of day or your mood. Remember, start low and go slow–edible onset can take up to an hour and a half.
"Adults need 7 or more hours of sleep per night for the best health and wellbeing. Short sleep duration is defined as less than 7 hours of sleep per 24-hour period."—CDC study, 2017
4. Escape your family with a cannabis-infused bath.
If your home is loud with the sounds visiting family and friends and you're looking for a place to hide, look no further than your bathroom. Your bathtub can be a place of respite from the stress of a full house. Light a few candles, bring a good book and settle into a comfortable bath enhanced by a cannabis bath bomb. Soak your stress away and ignore the noise outside your bathroom door.
*Enhance your bath with an infused bath bomb from Coda. We recommend that you don't mix consumption methods while indulging in a canna-bath. As a rule of thumb, its best to stick to one method of consumption to ensure the best experience.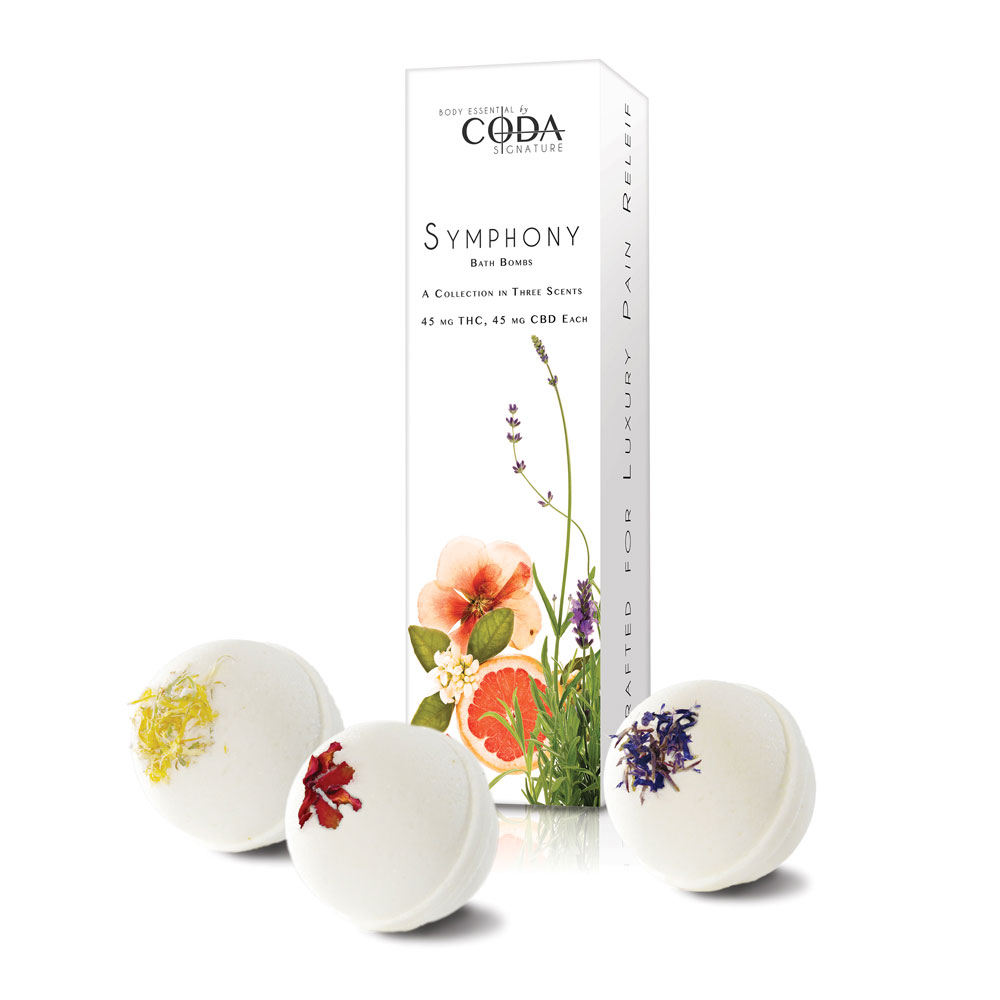 Pro Tip: All of the products mentioned above make great stocking stuffers for your canna-friendly friends and family.
Lightshade will help you get through the stressful holiday season.
We know the holidays can be extremely stressful. Coloradans are preparing to entertain friends and family, packing for annual trips, and there's the added stress of budgeting for gifts as well as for those trips and gatherings we just mentioned. Taking time for you, and including cannabis in your holiday survival kit might be just the thing to make the holidays more enjoyable this year. Drop by Lightshade this week and discover your new favorite stress reliever.
Check out our 2018 Holiday Survival Guide for product recommendations and recipes to enhance your holidays this year.
About Lightshade: Established in 2011, Lightshade is Colorado's premier dispensary with eight locations across Denver and Aurora. Lightshade offers the mile-high city's best selection of top-shelf cannabis products including proprietary and ambassador strains, edibles, concentrates, tinctures, topicals, and cannabis-related merchandise.
Lightshade serves 21+ adult customers at each of their eight locations, and 21+ medical patients at the Peoria, Dayton, Sheridan, and Holly stores. Lightshade provides ongoing education to staff members surrounding all products and processes to ensure every budtender is trained and ready to make recommendations tailored to each customer's unique needs, and they are committed to supporting the community through their comprehensive CSR program.