The Adventures of a Keystone Kid
With activities for kids – and kids at heart – Keystone Resort makes family FUNdamental.
Growing up at the foot of the Rockies means adventure starts early. Learning to ski is a rite of passage in these parts, and family memories are made on the mountain. Like most Colorado parents, I've learned a thing or two about skiing with kids over the years – for instance, always send them to the bathroom before you put on their snow pants, and hula hoops actually make for great harnesses. But the biggest lesson of all? Make sure every mountain adventure is steeped in fun, so they can't wait to go back for more. If you do your job right, they'll ask to go skiing as soon as the leaves start to fall, and you'll find yourself sneaking away for mid-week vacations and planning ski trips for every three-day weekend on the school calendar.
When it comes to planning a ski vacation with kids in tow, there are a few crucial considerations:
Is the resort close enough that we don't have to hear "Are we there YET?" a gazillion times?
Can kids ski and ride without breaking the bank?
Will there be enough activities to keep everyone in the family entertained?
We've been skiing these epic mountains for over a decade now, and without a doubt, Keystone is the resort that checks all the boxes on our list of requirements for kid-friendly ski vacations.
Just 75 miles west of Denver, Keystone is close enough to maximize your vacation time on the mountain, but far enough that it still feels like a getaway. While most resorts reserve their ski-free deals for preschoolers, that's not the case at Keystone: kids under 5 always ski free, and those 12 and under ski free all season with just 2 or more nights booked at the resort.
Once you arrive, it's clear that fun and family come first at Keystone. You can park for free in the reserved-for-families front row of the lot, and use a complimentary wagon to tote gear, so you're not wrangling kids and 5 pairs of skis and boots simultaneously. Families can opt to take a private ski lesson all together, or enjoy Schoolmarm, the mountain's designated family ski trail. And – new this year – there is a second conveyor lift at the River Run Gondola for beginning students in ski school, further demonstrating Keystone's dedication to the littlest shredders in your bunch. With extras like an indoor/outdoor slide, Camp Keystone theme days and nearly unlimited of hot chocolate, you'll never feel guilty putting the kids in lessons so you can get in some runs on the backside. After all, Keystone spans three distinct peaks and those five bowls filled with fresh powder are calling.
Keystone Brings Out the Kid in Everyone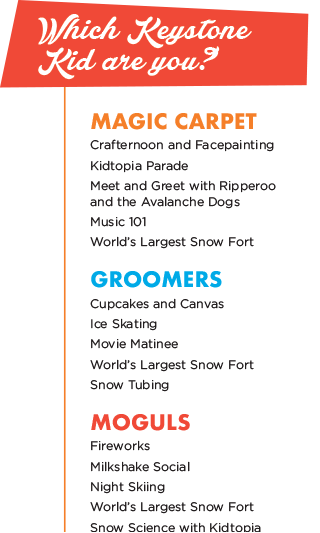 It's not just the mountain that make Keystone kid-friendly, but their Kidtopia events and activities knock it out of the park. Keystone is home to the world's largest snow fort, found at the top of Dercum mountain, and offers weekly parades and fireworks. There are daily activities to enjoy, like meet-and-greets with Ripperoo and the avalanche rescue dogs, milk shake socials, family movie nights, and cupcakes and canvas. Best of all, most of the Kidtopia activities are free, meaning your vacation dollar stretches further (have you checked out the spa, Mom?) And if your legs are still functioning after a day on the slopes, grab a cookie and suit up for snow tubing, ice skating, or Keystone's famed night skiing. The extra 5 evening hours of slope time included with each lift ticket means added value and the opportunity to make your after-work hours extra happy.
Keystone is a winter playground, offering fun adventures for every age. Whether it's their first season on the mountain or their 61st, every member of your family is sure to play all day at Keystone.