Women's Health: Pregnancy And Beyond
Six questions with Kaiser Permanente's Jodi Gibson, MD, one of Denver's top ob-gyns.
Pregnancy is a beautiful experience, but it's also a stressful time for moms (and dads) who are trying to take care of themselves while worrying about their unborn child's health, what labor is going to be like, who their child is going to grow up to be, and, well, basically everything else. That's why it's so important to find the right obstetrician-gynecologist (ob-gyn), or doctor who specializes in women's health.
At Kaiser Permanente Colorado, patients have access to experienced doctors and an ob-gyn department that is focused as much on the soon-to-be-mother's physical well-being as her mental health. Should issues arise—anything from anxiety to an unusual pap smear—Kaiser Permanente's integrated care model allows the ob-gyn to immediately connect with top, high-quality specialists to ensure the patient gets the care she needs quickly and without the hassle of having to search for an in-network doctor. We chatted with Jodi Gibson, MD, a Permanente ob-gyn who sees patients at the Kaiser Permanente Lakewood Medical Offices. A 2018 Top Doctor who's been with Kaiser Permanente for 13 years, Dr. Gibson talked about what pregnant women want to know today, how soon they can get back to their Colorado lifestyle after having a baby, and more.
What are some common concerns patients raise during appointments?
Pregnant women increasingly want to reduce their likelihood of having a Cesarean section. Kaiser Permanente Colorado has a very low C-section rate. Our first-time C-section rate is around 17%, compared with 21% nationally. Our overall rate is 27%, compared with 31.9% nationally, according to the Centers for Disease Control and Prevention. And just because they may have had a C-section in the past doesn't mean they can't have a vaginal birth in the future.
Women are also getting pregnant much later in life than they used to. These days we see more women coming in for pre-conception counseling. They want to talk about pre-existing medical issues and how we take care of them a little differently than we do younger, expectant mothers.
Women, as they're approaching menopause, want to talk more about the options surrounding their menopausal symptoms and the different ways we can approach those symptoms. While some women want to be on hormones, other women do not. We go over all of those options in great detail and personalize what's right for each member.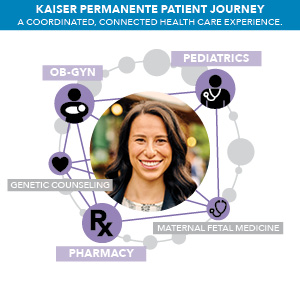 What conversations are you having with older moms-to-be?
In ob-gyn, we consider 35 advanced maternal age. So, we refer women 35 and older to our genetics specialists to discuss all the options around early genetic testing. We do this because around 35 there's a slight increase in possible genetic issues and complications, such as gestational diabetes and high blood pressure. We also typically have them see our high-risk or maternal fetal medicine specialists to receive their ultrasounds.
Past the age of 40, those risks are accelerated a bit more, and we have patients follow-up more often with our high-risk specialists and do more testing of the developing infant. We keep close tabs on the baby the last month or so of the pregnancy by having Mom come in twice a week for monitoring.
Are there any misconceptions about what an ob-gyn does?
A lot of people assume that we are primary care providers and pregnancy care providers, but they don't realize that we're surgeons as well. When we perform surgeries, we prefer to use minimally invasive techniques when possible, including vaginal and laparoscopic approaches, because they typically make for a faster recovery and lower risk of complications. In fact, 96% of the hysterectomies we perform are minimally invasive, whereas the national average is around 70%.
Although many young women see ob-gyns for primary care, as they get into their 40s and 50s, I encourage them to have a primary care physician. Conditions that are more common with age, such as diabetes, hypertension, and high cholesterol, are managed more appropriately by primary care physicians.
Coloradans are an active bunch. What advice do you give new mothers about when they can get back to their old workout routines?
In general, we want you up and moving pretty quickly. We recommend avoiding super strenuous exercise initially — usually a month without strenuous exercise after vaginal birth and six weeks after a C-section. We strongly recommend, both from a physical health standpoint and a mental health standpoint, getting outside and going on walks with your baby in the stroller. I also strongly encourage women, if they have a partner, to make sure the partner takes the baby for an hour or so at least a few days a week so Mom can get out and go do a few things by herself or with friends. From a mental health standpoint, it's important to be able to find that balance.
Is postpartum depression a concern?
We screen during the pregnancy for depression in general — at the initial visit and at the beginning of the third trimester — to see if someone is leaning toward those risks. We're also now doing screenings at the hospital after delivery; people who are at a really high risk are seen by mental health staff at the hospital before they go home.
We also have perinatal home care nurses who visit all moms and babies at home one or two days after patients leave the hospital. Typically, outside of Kaiser Permanente, moms have to bring their newborn babies into a medical office for a weight check two days after they go home; that's a lot for a new mom to do, so we have someone go to them at home. A nurse practitioner checks the baby's weight, checks jaundice levels and helps Mom with any breastfeeding concerns she might have. All of our nurse practitioners are lactation-certified.
We also have a mindfulness in pregnancy program for first-time moms, particularly those of lower socioeconomic backgrounds, who have screened positively for, or have any history of, anxiety or depression. The program helps them find the resources they'll need with a newborn at home that they might not otherwise be able to afford. It also connects them with our behavioral health department.
It's also important for parents to connect to a pediatrician who will care for their child from birth to the age of 18. Our pediatric teams work with parents to develop a care plan that is flexible and supports their lifestyle and desired parenting approach.
Body positivity and self-care are buzzworthy terms these days. How important is it for women to take time to focus on themselves?
That's one of the things I'm very passionate about: Our physical health is so much tied to our lifestyle. I make it a point at every annual visit to push how important a healthy diet, exercise, mindfulness, and taking time for yourself are to our overall health. It's really overwhelming to be a new mom. I joke with them that brushing their teeth will be an accomplishment for the day. It's important for moms to know that and know that's normal and to recognize that sometimes they do need to get a little break from it, so they can be the best moms.
---
Dr. Gibson is among more than 1,200 Permanente physicians serving Kaiser Permanente members across Colorado. Other Permanente physicians who were named to 5280's 2018 Top Doctors list include:
Matthew S. Koehler, MD-Anesthesiology
Keri J. Propst, MD-Anesthesiology
Jennifer N. Kelloff, MD-Child Abuse Pediatrics
Laurent Lewkowiez, MD-Clinical Cardiac Electrophysiology
Elisa S. Kapler, MD-Dermatology
Barry A. Schoelch, DO-Diagnostic Radiology
Ryan Paterson, MD-Emergency Medicine
Daniel P. Jones, MD-Family Medicine
Micheline Kuhr, MD-Family Medicine
Jennifer Osborne, MD-Geriatric Psychiatry
Margrit Juretzka, MD-Gynecologic Oncology
Alexander R. Menter, MD-Hematology, Medical Oncology
Frank Becky, MD-Internal Medicine
Lynn L. Rooney, MD-Internal Medicine
Stephen P. Johnson, MD-lnterventional Radiology
Morgan L. Swank, MD-Maternal & Fetal Medicine
Heidi Ray, MD-Neurology
Sirisha Komakula, MD-Neuroradiology
Eric K. Bode, MD-Nuclear Medicine
Jody L. Gibson, MD-Obstetrics & Gynecology
Tyler L. Skaife, MD-Orthopedic Sports Medicine
Timothy R. Muratore, MD-Orthopedic Surgery
Gary L. McDonald, MD-Otolaryngology
David Barclay, MD-Pediatric Anesthesiology
Brian Bagrosky, MD-Pediatric Radiology
Sorenna Kirkegaard, MD-Pediatrics
Sarah Beth Van Scoy, MD-Pediatrics
Edward T. Melkun, MD-Plastic Surgery
Kristy Bauman , MO-Pulmonary Disease
John Christopher Sohayda, MD-Radiation Oncology
John-Paul Morfin. MD-Rheumatology
Walter D. Conwell, MD-Sleep Medicine
David C. Gerhardt, MD-Sports Medicine
Christopher Jockel, MD-Surgery of the Hand
Justin Green, MD-Urology