Disease management programs key to blunting effects of chronic disease
Whether you're in peak health or fighting a chronic illness, Kaiser Permanente has the expertise, medical technology, and comprehensive care to help you thrive. Since we first opened our doors in Colorado 50 years ago, we've earned a reputation for providing quality care across a wide range of specialties, including neurology, cancer, cardiology, orthopedics, and transgender care, to name a few. And this year, the National Committee for Quality Assurance (NCQA) rated Kaiser Permanente best in Colorado1 for:
Blood pressure control
Treating heart disease
Asthma control
Cancer screening
Mental/behavioral health
Women's health
Quality care, innovation, and thought leadership
Quality-focused disease management
To catch conditions early and help members manage their chronic illnesses, our disease management programs combine preventative care, specialty care, self-management, and health education. This complete care approach enables us to:
Intervene with patients early to help control or even prevent chronic conditions
Automatically enroll members in disease management programs based on health status and patient information
Regularly screen members for chronic condition risk factors
Customize treatment for each member's individual needs
Provide coordinated care and technology support to increase efficiency in treatment
Empower members to understand and self-manage their conditions
As a result, Kaiser Permanente led the nation in 21 effectiveness-of-care measures, including prevention and screening, cardiovascular care, and comprehensive diabetes care.2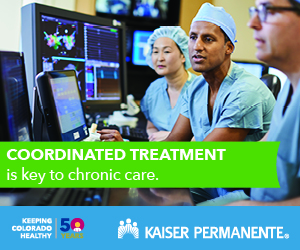 Integration: The key to efficient care
To most efficiently manage chronic conditions, Kaiser Permanente physicians, nurses, specialists, and pharmacists are linked together through an electronic health record. Working as a team, they can immediately access vital, up-to-date medical information, communicate with colleagues, and quickly implement treatments. This is also known as "integrated care."
Case managers for continuity of care
To meet the needs of members with high-risk medical conditions, a case manager provides extra support by ensuring continuity of care between inpatient hospitalizations, transitional care, home care, skilled nursing, medications, referrals to community resources, and outpatient care. They are patient advocates and educators, assisting the physician and empowering the member and family to make optimal health care decisions that will produce high-quality outcomes.
Physicians who focus on patients, not paperwork
Many of Kaiser Permanente's 1,200+ highly skilled physicians come from some of the nation's best medical schools, including Yale, Johns Hopkins, and Harvard. And of all the doctors who apply, only about 10 percent are selected. They practice in roughly 46 medical specialties. As a nonprofit organization, we free our doctors from worrying about the financial objectives of shareholders, and instead, enable them focus on the health of each individual member.
Year after year, Colorado's medical community and publications, such as 5280 Magazine, recognize Kaiser Permanente doctors as among the best in their disciplines. This year, a record 81 of our physicians were named Top Doctors in 5280.
Innovating into the future
Fifty years ago, Kaiser Permanente brought the integrated delivery model and our commitment to delivering comprehensive care across every one of our specialties to Colorado. As we embark on the next 50 years, we're just as dedicated to providing the same level of excellence. Read more about specialty care at Kaiser Permanente Colorado.

Sources:
National Committee for Quality Assurance (NCQA) Private Health Insurance Plan Ratings 2018–2019.
Kaiser Permanente 2018 HEDIS® scores. Benchmarks provided by the National Committee for Quality Assurance (NCQA) Quality Compass® and represent all lines of business. Kaiser Permanente combined region scores were provided by the Kaiser Permanente Department of Care and Service Quality. The source for data contained in this publication is Quality Compass 2018 and is used with the permission of NCQA. Quality Compass 2018 includes certain CAHPS® data. Any data display, analysis, interpretation, or conclusion based on these data is solely that of the authors, and NCQA specifically disclaims responsibility for any such display, analysis, interpretation, or conclusion. Quality Compass® and HEDIS® are registered trademarks of NCQA. CAHPS® is a registered trademark of the Agency for Healthcare Research and Quality.