There should be only one bump on the journey to motherhood
Team-based care makes for healthy moms and babies.
Maternity care is about delivering the best possible outcomes for both mom and baby. That's why Kaiser Permanente Colorado doctors, nurses, and specialists work as a team, partnering with mom to plan for and manage every step of her pregnancy. At an appointment, all of her care team providers have instant access to her complete and fully updated electronic medical record, so they can make the most informed decisions about her care and not subject her to questions she's already answered or order tests and scans she's already completed. She, too, should have easy access to her medical record and experts who can answer her questions no matter when they arise.
The early stages
When a Kaiser Permanente member shares that she's thinking about having a baby, we form a multidisciplinary care team and immediately begin to get to know her and her environment. This team includes ob-gyns, nurses, fertility services and counseling providers, and even clinical pharmacists. We screen 100% of future moms for social determinants of health to better understand the context of their pregnancy and to help ensure they have the smoothest, healthiest maternity experience possible.
Once the member is pregnant, a number of activities set the course for the rest of her journey, including a virtual orientation with other expectant moms so they know what to anticipate. A nurse works with her to set in motion the actions she needs to take at this early stage, including lab orders, getting her in to see her doctor, and other important services.
Now and throughout the pregnancy, the members of the expectant mom's care team listen carefully to her wishes and offer choices based on her preferences, circumstances, and medical needs.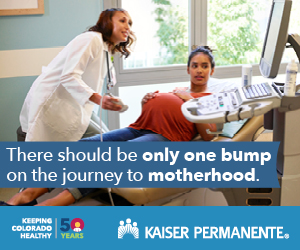 Reassurance and care, 24/7
Many questions can arise along the maternity journey. We understand the importance of getting answers to those questions as quickly as possible. It's not only about reassurance that everything is okay, it's also about getting care when it's needed. That's why Kaiser Permanente offers so many ways for expecting moms to get their questions answered, such as:
Online Chat with a Doctor (including ob-gyns)
24/7 medical advice by phone
Email with a doctor
E-Visits
Video visits
Urgent care delivered at home via DispatchHealth in Colorado Springs and the Denver/Boulder area
31 medical offices and a large network of urgent and emergency care centers
What elevates the care we provide, though, is that when an expectant mom is cared for by Kaiser Permanente providers, all her interactions with any member of her care team — including telehealth services — are recorded in her electronic medical record. That way every aspect of her care is tracked and coordinated so that all her medical needs are met.
Care that generates results
This system of connected, coordinated care, or "integrated care," was pioneered by Kaiser Permanente more than 75 years ago. It debuted in Colorado when we opened the doors of our first medical office in Denver exactly 50 years ago. A lot of other health care organizations claim to provide integrated care, but a network of doctors who can't easily share a single patient's medical record electronically is not integrated care. The proof of truly integrated care's value for mom and baby speaks for itself:
The Kaiser Permanente Colorado C-section rate (15.8%) is lower than the state average (26.5%).
6.4% of Kaiser Permanente Colorado babies are born with a low birth weight, compared with 8.3% of babies nationally.
We prescribed 56% fewer opioid pills in 2018 than in 2017 to inpatient members who had C-sections; and we prescribed 23% fewer to patients after they were discharged from the hospital.
The percentage of Kaiser Permanente Colorado moms who still include any breastfeeding in their babies' feeding regimens after 6 months is 69%, compared with 58% nationally.
We received an NCQA score of 5.0 out of 5.0 for customer satisfaction for postpartum care.
Postpartum care at home
Mom and baby's care doesn't end when they go home. We offer, and about 98% of members accept, in-home, postpartum care within 48 hours of hospital discharge. Services provided include a postpartum depression screening, a check of the baby's vitals, discussion of birth control options, lactation support, C-section incision care, and more.
When it comes to delivering a healthy happy pregnancy experience, nothing beats a connected, coordinated, team-based approach. It's the approach we have taken for 50 years and that will continue to guide us through our next 50.
Learn more about maternity care and women's health.