We provide care on demand, so you can live life on demand.
The pace of life has never been faster. Thanks to technological advances, people expect to be able to do things instantly that used to demand a lot more time and effort. This includes getting health care.
Throughout our 50-year history, Kaiser Permanente Colorado has always embraced ways to make it easier for you to get care — whether it's making it an in-person doctor's appointment or enabling you to chat with a physician on demand through our mobile app.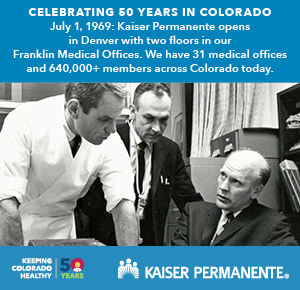 And, as our record number of 5280 Top Doctors shows, when you get care from any of our 1,200+ world-class physicians, you're assured of getting care that is recognized by independent, national organizations for its clinical excellence. That dedication to making quality care even easier to access underpins the changes we are making today. Here are a few of them:
Adding specialty physicians and pharmacists for members to consult with via our online Chat with a Doctor service. We've also added medical financial counselors to help members understand their plans and medical expenses.
Optimizing care teams to make our primary care services easier to access and more efficient. Starting in the fall, this will include extended hours and more walk-in availability at medical offices where primary care is available.
Expanding emergency care options by adding HealthONE free-standing emergency rooms to our network and HealthONE The Medical Center of Aurora
Teaming up with DispatchHealth to bring urgent care services directly into members' homes
Adding to the list of procedures we perform in our state-of-the-art surgical center so that patients can recover more quickly at home and reduce the risk of hospital-acquired infections
Teaming up with the SCL Health Birth Center of Denver to provide expectant mothers with an opportunity to be cared for by certified nurse midwives in a comfortable, spa-like birthing center
Expanding access to mental health services with more behavioral health specialists in medical offices and contracting with new network providers

If there's one thing all health care experts agree on, it's that easy access to affordable medical services is key to producing better health outcomes for patients. It's a belief that has guided our first 50 years and will continue to guide our next 50 years.

Watch Denver Mayor Michael Hancock's video tribute to Kaiser Permanente's commitment to community in honor of our 50th anniversary.

Congratulations to all 82 of our Permanente physicians who have been recognized as 5280 Top Doctors.