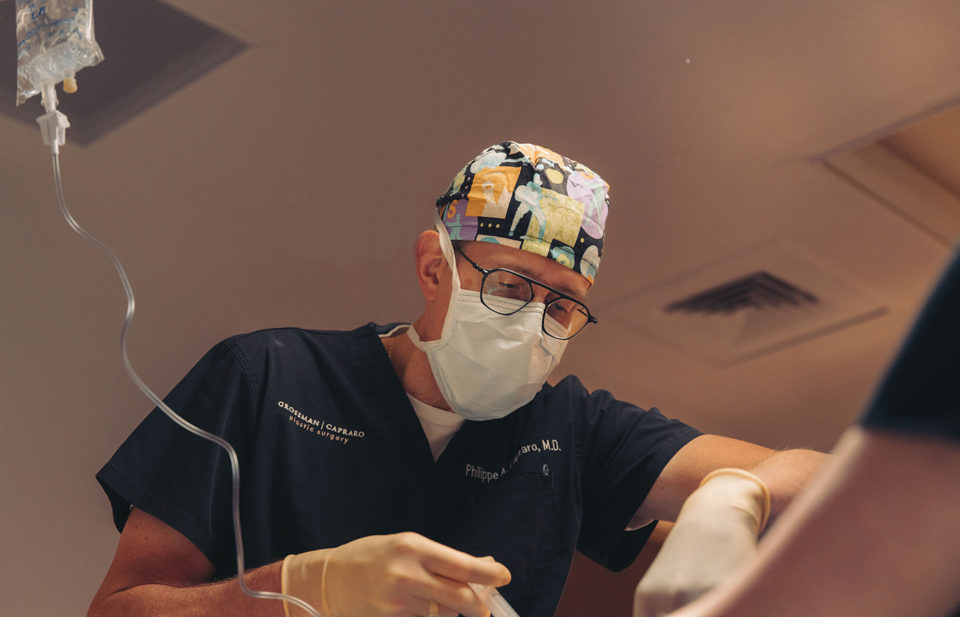 Is a Breast Augmentation Right For Me?
Breast Augmentations are one of the United States' most popular plastic surgery procedures, with 200 to 300 thousand breast enhancement operations occurring yearly. Despite the incredible emotional and physical rewards of cosmetic surgery, the decision can be daunting. We chose to sit down with the accomplished Dr. Philippe A. Capraro to understand what exactly you can expect the Breast Augmentation process to look like from start to finish.
Who is qualified to receive a Breast Augmentation? If a patient is not qualified, are there other treatments or procedures you offer that they can consider?
"I believe that nearly anyone who would like to see an enhancement in their breasts is qualified to do this procedure, given that they are able to go through surgery. Many patients see a breast augmentation as a mental reward rather than a physical one due to the self esteem that comes from the transformation. Most women that desire both these physical and emotional results from a breast augmentation I would consider qualified. With that being said, there are some exceptions. Some patients would like to see an enhancement of their breasts but would prefer not to use implants. When this is the case, I generally recommend either a fat transfer or Renuva injections. The only patients I tend to deem unqualified are those who maintain unrealistic expectations; these patients often find that they do not enjoy their results, even if they are the best that they can be. My priority is always a patient's happiness and their safety. A cosmetic procedure should only occur when both of those are ensured."
If a patient is considering a Breast Augmentation, are there any steps you recommend they take to prepare for their consultation?
"There is only one step I recommend a patient takes before going to a cosmetic surgery consultation and that is to research and choose an American Board-Certified plastic surgeon. This is essential to guarantee good and safe results. Other than this, I actually prefer that patients come into their consultation before making definite decisions about size, shape, or implant type. Working together to establish these factors confirms a patient's trust in me as well as my knowledge of exactly the results they are looking for."
How do you ensure that patients maintain realistic expectations up until surgery enough to love their results?
"To avoid indecisiveness or worrying up until a patient's procedure, we strongly vouch for visualizing the end results as closely as possible. During a consultation, a patient will wear a bra in which they can try on various sizing implants to envision a realistic look and feel. At this time, I also inform patients of my professional opinion regarding size and proportion. We recommend that patients continue to 'try-on' using what they can at home leading up to operation day. However, if doubts occur, patients must be transparent with their surgeon about second thoughts or alterations from decisions discussed during the consultation. If this occurs, it is completely normal for a patient to schedule a second consultation to explore any concerns or desired modifications. At Grossman | Capraro Plastic Surgery we also meet with our patients the morning of the procedure to confirm that both the surgeon and the patient is on the same page."
What does a typical day of surgery look like for a Breast Augmentation patient?
"On operation day we will have the patient come into the surgical center or hospital at about 6:00 a.m. to begin preparations with the nurses. This involves verifying paperwork, labs, and a patient's current state of health. At that point they will talk to the anesthesiologist who will cover the pros and cons of anesthesia during surgery and get signed consent for the operation. A circulating nurse and physician will verbally confirm the procedure and make markings for your surgeon to work off of. Promptly after this, I personally always check in with the patient and review with them the size, shape, and type of implants they have chosen. Once in the operating room the patient will be asleep for approximately two hours while the procedure is completed. After about an hour in the recovery room the patient can be driven home by a family member. Here they should eat light foods as they feel ready for them, stay hydrated, continue breathing deeply, and relax. They can even go for a walk at leisurely pace if they'd like. The rest of the day is theirs."
What is the typical recovery time for this procedure? Is there anything a patient can do before surgery to quicken or ease the recovery process?
"The best way to prepare for an operation is to make sure the body is as healthy as possible. This means eating well, getting a good amount of rest, being aware of sickness, and staying hydrated. The day after surgery patients can begin to go back to their everyday activities while remaining conscious of their healing. Whether this means working from home, going on a walk, or heading to the mall for a few hours, patients are often comfortable easing back into their usual habits. Within the following few days patients can shower and in about a week they can return to driving. During this time they should be wearing an appropriate bra to assist in their recovery.
At the three week mark breast augmentation patients are feeling fully back to normal. They can exercise with a strong sports bra, discontinue wearing the transition bra, and should feel confident in their results and typical abilities. When the implants require replacing after 12 to 15 years, the surgery and recovery will be much easier due to the body's adaptation to the implants."
About Dr. Philippe A. Capraro
From every facet of skin care to non-surgical and surgical facial rejuvenation, breast enhancement, body shaping and contouring, Grossman | Capraro Plastic Surgery and Medical Aesthetics is committed to employing every aspect of the intricate art of plastic surgery and aesthetics to achieve the outstanding results for which they are known. Going on his 23rd year with GCPS, Dr. Philippe A. Capraro's experience and technique has set him apart as one of the premier plastic surgeons in the Denver area.