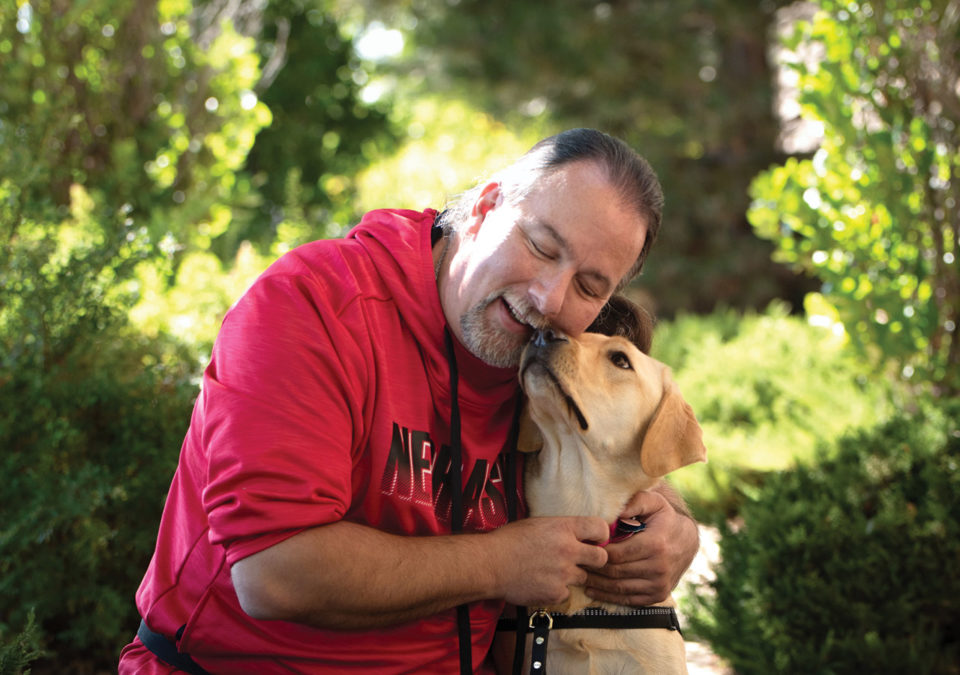 At Freedom Service Dogs (FSD), we transform lives by partnering people with custom-trained assistance dogs. FSD serves veterans and active-duty military members with PTSD or combat-related injuries, children and teens with autism, and individuals with physical disabilities. Your support helps provide service dogs to our clients free of charge, along with lifetime support that includes ongoing training and successor dogs when a service dog retires.
For people with disabilities, a custom-trained service dog can open the door to new possibilities. Instead of a life limited by difficulties, fears, and frustrations, our clients and their loyal and loving service dogs discover all they are capable of doing together.
U.S. Army veteran Chris lives with PTSD brought on by serving in Operation Desert Shield and Desert Storm during the Gulf War, followed by a 23-year career as a police officer. After experiencing flashbacks, depression, and isolation from family and friends, Chris turned to FSD for help and graduated with his service dog, Reef, in 2021.
Says Chris, "Reef has made my PTSD symptoms no longer rule my life. She can pick up on signs when I become anxious and disrupt them by giving me a gentle nudge or licking me in the face. Reef gives me the confidence to get out of the house, and when I feel uncomfortable in crowds, she creates a space around me to help me get through it. Reef makes me look forward to leaving the house and doing things again."
By supporting Freedom Service Dogs this holiday season, you can help open doors to new possibilities and bring greater independence, hope, and happiness to people in need. You can also help by volunteering to raise a puppy, assist in our nursery, or foster dogs on weekends! Thank you for your generosity and compassion.
(303) 922-6231 | 7193 S. Dillon Court, Englewood, CO 80112