Endovascular Consultants of Colorado Blazes a New Trail in Outpatient Services
The new clinic in south Denver treats a wide variety of medical conditions using minimally invasive, image-guided procedures.
Lew did not like what he was hearing. The 61-year-old (who requested we not use his last name) was exhausted and uncomfortable. During the day, he experienced constant feelings of urinary urgency and, at night, he was waking up four or five times to use the bathroom. They were the classic symptoms of an enlarged prostate, or benign prostatic hyperplasia—a condition that affects about half of all men and becomes more common with age.
Lew had spoken with two urologists, both of whom said he could either manage the symptoms with medication for the rest of his life or shrink his prostate through surgery (a transurethral prostatectomy, or TURP) that required going in through his penis. Lew wasn't satisfied with either option and thought the surgery sounded "excruciating and torturous."
That's when he started doing his own research and discovered Endovascular Consultants of Colorado (ECCO). The office-based lab, or OBL, opened in Lone Tree in mid-January. It is the first fully operational OBL in the Denver metro area, providing a wide scope of services, including consultation, in-house imaging, and a cutting-edge procedural suite. ECCO is led by well-respected doctors Aaron Kovaleski and Charles Nutting who have more than 30 years of combined experience treating health issues in men and women, from peripheral arterial disease to liver cancer to uterine fibroids.
Interventional radiology—the two ECCO physicians' specialty—uses image guidance such as ultrasound or X-ray to perform minimally invasive procedures that typically don't require any incisions. Instead, the doctors access blood vessels utilizing a needle and a specialized wire, over which they perform their treatments. These procedures, when viable for a patient, have faster recovery times and lower complication rates than surgery. Patients can generally get up and walk out of the office afterward, and research has shown that infection and complication rates are lower for treatments performed outside of the hospital setting. Costs tend to be reduced, too, since patients are not footing the bill for the hospital's overhead.
Dr. Kovaleski has practiced in several regions of the country, starting and building multiple treatment programs focused primarily on liver cancer and wound care; he has extensive experience treating and managing patients with peripheral vascular disease, both arterial and venous. Dr. Nutting is internationally renowned and has been on the cutting-edge of new, minimally invasive procedures for more than two decades. He specializes in the complex treatments for liver cancer and benign prostate enlargement that he helped pioneer. These two leading physicians have performed tens of thousands of endovascular interventions and treatments.
To solve Lew's issue, Dr. Nutting opted for a prostate artery embolization (PAE), a nonsurgical alternative that requires no general anesthesia. "This seemed like a really sensible way of treating the problem," Lew says. He was comforted by the fact that the procedure was painless and short, had no long-term side effects, and would not cause impotence or incontinence (a potential risk associated with TURP). Within a week, Lew says he felt better; a month later, his symptoms had almost completely disappeared. He even felt confident enough to take a road trip to Wyoming in late June. "I was really apprehensive about having it done and it turned out to be just a great experience," he says.
ECCO's tight-knit team is focused on building relationships with their patients, meaning the doctors are able to provide one-on-one service to everyone who walks in to the office. There are no five-minute, in-and-out meetings here. "Dr. Kovaleski did something I don't think I've ever seen a doctor do: He actually took me to the back, he showed me the equipment, he showed me the coil that they were going to put in my body to block the veins," says Ryan, a 37-year-old auditor who underwent a varicocele embolization in June (and asked to withhold his last name for privacy). He had previously been told by multiple physicians that surgery was his only choice, but he persisted in finding an option that made him comfortable.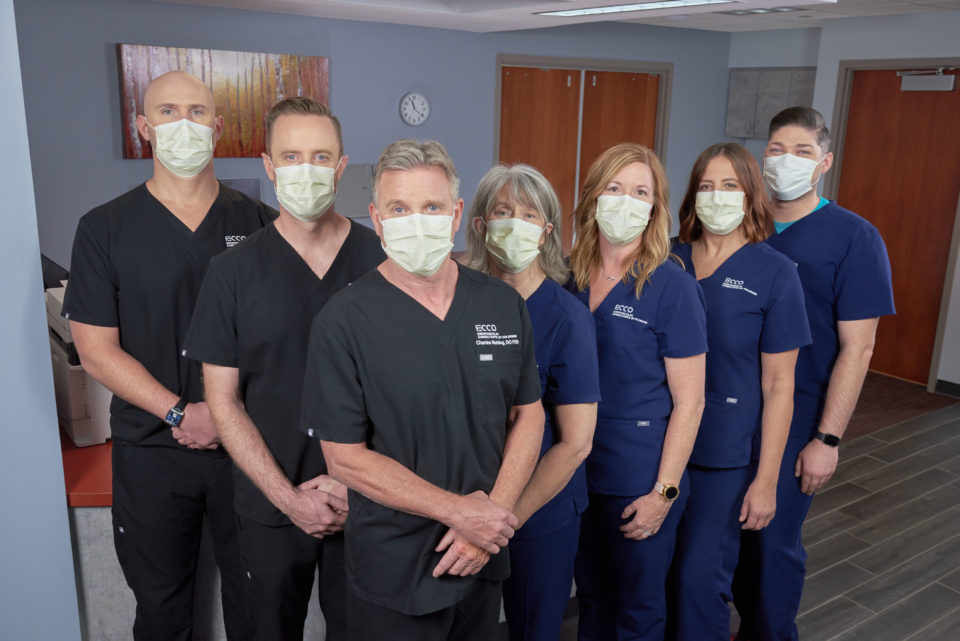 The intimate ECCO office follows all CDC protocols for preventing the novel coronavirus and screens patients before and after every visit. Other perks: Free parking is situated just feet from the office's private entrance, which opens directly into the waiting room (no shared lobby, elevators, or stairs to navigate). "You walk into the front door and walk straight back to pre-procedure. You recover there as well. Everything is under one roof," Dr. Kovaleski says. "There's a significant decrease of anxiety and intimidation for patients." Consultations are even available via telehealth, though you do need to visit in-person to have imaging done.
No matter how you find yourself at ECCO—whether through physician referral, web search, or word-of-mouth—you'll find a medical team that strives to achieve the best possible patient outcomes with a dedicated focus on compassionate, quality care. "You have to look at patients as people," Dr. Kovaleski says. "What are their goals in life? What do they want to do? Many of the conditions we treat do have surgical options, however, surgery is not always the best choice."
To schedule a consultation, visit our website, call 720-668-8818, or email info@eccomedical.com.
8080 Park Meadows Drive, Suite 130, Lone Tree