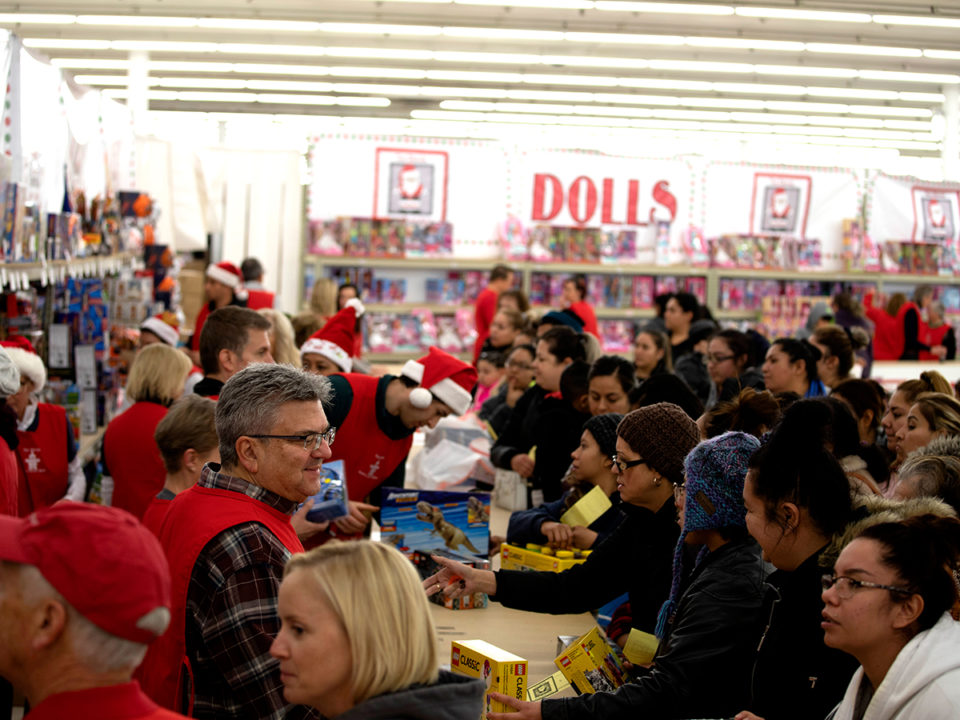 Denver Santa Claus Shop was founded in 1931 with the mission of "A Toy for Every Girl & Boy!" each holiday season. Nearly 100 years later we have served over one million families in the Denver Metro area, ensuring every child has new toys to open each holiday season. We are an all-volunteer run, non-denominational 501(c)(3) and serve families referred by Denver Human Services, Social Service Agencies, and other partners.
What makes Denver Santa Claus Shop different?
For four days every December, we set up a giant Toy Shop where eligible families "shop" for toys using point vouchers per child. This allows families the dignity to select the toys and books they know their children will love. Toys are grouped into categories such as dolls, games, and gently loved toys. Families "spend" their points on the toys they want. Additionally, every family is welcome to select a free book for each child without using points.
How can you get involved?
We depend on monetary gifts throughout the year to purchase toys and books for the Toy Shop. Our "Elves" spend countless hours searching for the best toys they know families will want for their children—much like any toy store. Monetary donations are extremely impactful because our "elves" can purchase toys in bulk at competitive prices. To make a monetary donation, visit denversantaclausshop.org/donate.
Denver Santa Claus Shop accepts new and gently loved toys and books all year long for ages 0–11. We can also help facilitate toy drives at schools, businesses, neighborhood groups, and holiday parties. It's a great way to come together and give back during the holidays. To donate toys and/or host a toy drive, visit denversantaclausshop.org/get-involved.
We rely on hundreds of volunteers to help run the Toy Shop each year. It would not be feasible without these selfless, generous contributors. Volunteers help with everything from setting up the Toy Shop, organizing toys, assisting families with "shopping," restocking, clean up, and more. If you are interested in volunteering, visit denversantaclausshop.org/get-involved.
The 2023 Toy Shop – December 8, 9, 11 & 12
Denver Santa Claus Shop expects to serve nearly 15,000 families this December. Thank you to the generous individuals, corporate and school partners, sponsors, and volunteers who make it possible. It is because of you we have never failed in our mission of "A Toy for Every Girl & Boy!"
From a family:
"Thank you all for your absolute hard work and effort and love. You never know what battle someone is fighting so thanks for being so generous and kind. Love, Ronni."
Interested in supporting?
P.O. Box 102104
Denver, CO 80250
denversantaclausshop.org