Come Home to Copper Mountain and Experience What's New
There are so many things to explore at your favorite mountain. Visit four new restaurants, ride the new Kokomo Express and take a lap on the Rocky Mountain Coaster at Copper.
Copper Mountain has always carried the reputation of being a laid-back resort where skiing is king but also a destination that offers the amenities you would find at other big ski areas. Well, Copper has taken its reputation to the next level. Not only will you still find the premium ski experience you know and love but you'll discover four new restaurants, a new alpine coaster and a new chairlift. All still with that laid-back vibe.

Experience Copper Mountain
For delicious breakfast by day and one-of-a-kind cocktails by night, visit Toast & Co. The menu features different variations of eggs benedict, the classics like eggs and bacon and some of the best pancakes in all of Summit County. You'll fall in love with the cozy atmosphere featuring antique books, weathered wall accents and one-of-a-kind china. After the sun goes down, wander back into Toast for a craft cocktail rivaling anything that you'd find in big cities. With dimmed lights and light bluegrass playing, the casual lounge feel will make this your place to unwind out of your ski boots.
Formerly Endo's, Ten Mile Tavern is the go-to spot for lunch, dinner and après. As you walk in, you'll be greeted with its bright, clean space complete with photographs that will inspire you to slow down and take in the scenery. Ten Mile offers 20 beers on tap all hailing from various breweries from around our great state of Colorado. Don't miss #Coppered: an amber ale brewed by 10 Barrel Brewing which can only be found at Copper Mountain. Pair your favorite beer with one (or several) of the menu's twists on your favorite comfort food s like the Steak and Gorgonzola Nachos or the Pastrami Fries. Insider tip: make sure to eat a few of the pickles—they are made in house. With large tabletops that can accommodate the whole family, this spot will quickly become a favorite for adults and kids alike.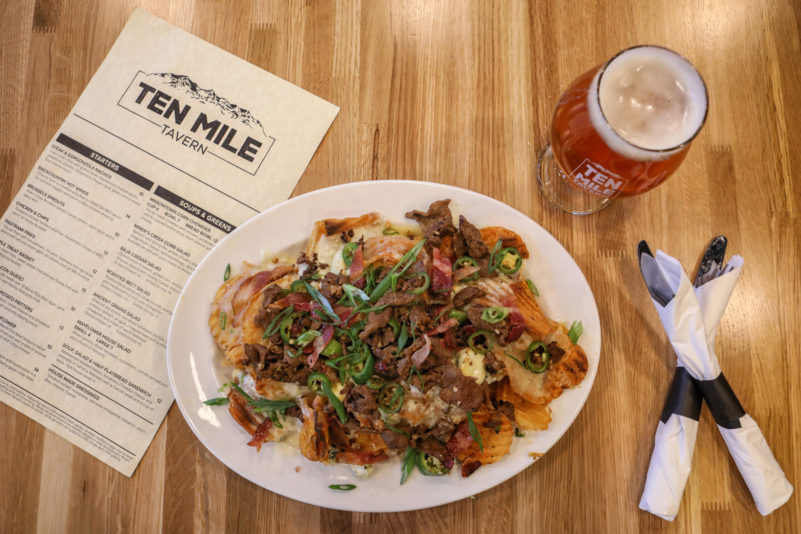 Après takes on a whole new meaning at the Downhill Duke's. This bar and restaurant is entirely outside on a giant south-facing patio providing plenty of sunshine well into the afternoon. There are beers and drinks a plenty as well as a menu of small plates to share. Man's best friend is even invited with special dog-friendly offerings. No good après party is complete without live music so don't worry, Downhill Duke's has got it covered. With a small built-in stage right on the patio and plenty of room to dance, the music won't end—even into the evening. This hotspot will set the bar to a whole new level of après party.
When you're ready for another type of thrill, take a ride on the Rocky Mountain Coaster at Copper. This alpine coaster winds through the forest for 5,800 feet, making it one of the longest in North America. Hop on a cart next to the base of the American Flyer lift and take in the sights of the beautiful Ten Mile Range as you make your way up the hill. Once at the top, gravity takes over and sends you down a series of curves, dips, and 360 turns that will get your heart pumping. Take it at your own pace; each cart has its own braking system so you can move at a speed you're comfortable with. Just need a quick break from skiing? You don't even need to ditch all your gear—ski boots are allowed.
For beginners and never-evers, improvements to Copper's West Village have created the ultimate beginner experience. The new Kokomo Express gets guests up to the heart of Copper's renowned beginner terrain in just four short minutes. When it's time for a break, Koko's Hut will help you maximize your time on the hill. This fun and bright day lodge offers food and drinks plus a view of the Ten Mile Range that can't be beat. The kids can have their hot chocolate while Mom and D ad can enjoy an adult beverage on the deck. It's a win-win.
You don't have to schlep the kids and all your gear back down the hill after just one day. Let the fun continue with a stay at Copper. With our 3 is Magic deal, book at least two nights of lodging and receive the 3rd night for free while kids 12 and under ski free with the purchase of a 2-day adult lift ticket. Also, you'll get free Secret! Pass upgrades. The Secret! Pass gets you on the hill 15 minutes before everyone else plus dedicated lift lines at select lifts to get you back on the snow faster.
Are you convinced yet? There's something special about Copper Mountain. Whether it's the laid-back atmosphere, some of the best skiing in Colorado, or all of these new things to explore, Copper is here to welcome you home every time. You've been raised on some of the best Colorado has to offer and the best just keeps getting better.