Building Bridges over Economic Inequality
Volunteers of America Collaborates with RiNo's New Businesses to Save Long-Term Residents
As you exit the front doors of the Volunteers of America Colorado administrative office, quietly located on 27th and Larimer Streets, you're immediately flooded with a buzzing energy – vibrant street murals splashed over historic brick walls, freshly baked aromas escaping from Denver Central Market and chic, young professionals walking the streets in search of the latest and greatest coffee shop or co-working collective. For many of the affluent millennials migrating to Denver, Five Points, and specifically the River North Art District (RiNo), is the place to be, and rarely a week goes by that a new, trendy spot does not make its debut within the cozy neighborhood formerly referred to as the "Harlem of the West."
Five Points, named appropriately for its five-way intersection of 26th Avenue, 27th Street, Washington and Welton Streets, has long been praised for its rich culture, diversity and jazz routes. The neighborhood celebrated, welcomed and embraced ethnic diversity, drawing in famous creatives such as Louis Armstrong, Ella Fitzgerald and Billie Holiday as they traveled through Denver.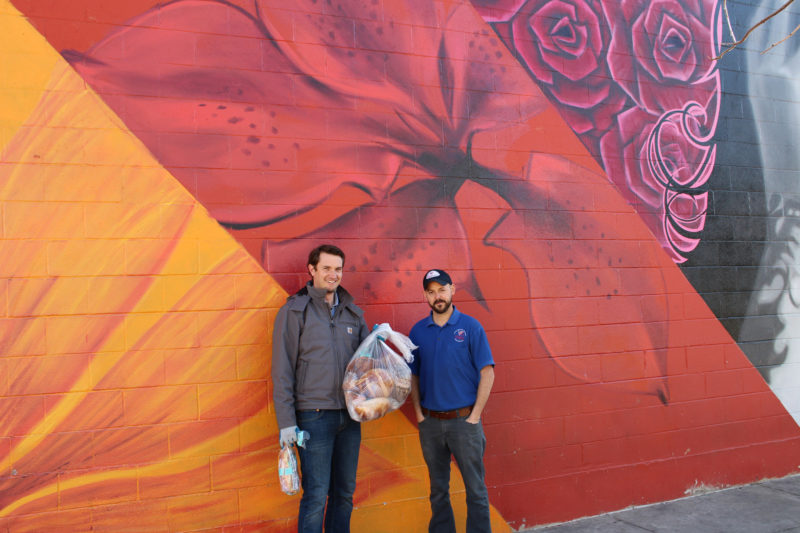 However, as Colorado continues to draw in hordes of transplanted residents, and developers remain eager to build luxury condos on cheap(er) real estate, the area has become a central focus in the ongoing debate concerning gentrification in Denver.
Just months ago, fellow Larimer Street tenant, ink! Coffee, sparked a firestorm of negative community commentary after posting a sidewalk sign that many considered insensitive to the issue of gentrification in the neighborhood. Angry protesters quickly swarmed the Aspen-based chain, and the storefront was soon vandalized.
The vandalism echoed the feelings of many long-term Five Points residents who feel they are being economically displaced from their homes and neighborhoods at an aggressively fast pace.
Building Bridges over Economic Inequality
Volunteers of America has been a resident of Larimer Street for all of its 122-year history. The non-profit organization, which serves Colorado's "most vulnerable neighbors" including veterans, women and children, seniors, homeless families and individuals with physical and/or mental disabilities, was originally housed in Larimer Square. However, wanting to be close to the community members it served, the organization relocated to its current RiNo neighborhood in the 1930s.
In 1987, the Volunteers of America Mission on 29th and Lawrence Streets opened, offering free breakfast, lunch and dinner to the community, as well as a free clothing bank, and case managers to assist visitors with obtaining government benefits and employment. The Volunteers of America Michael Kern Kitchen, opened in 2001, cooks, packages and delivers the Meals on Wheels program to local seniors, helping them remain in their homes. It also provides food to local dining centers where neighborhood seniors can eat a healthy lunch for free – reducing the high cost of living in the city. Additionally, the kitchen houses Volunteers of America's City Harvest, an umbrella food distribution center that collects and distributes food to over 57 non-profit food banks around Denver.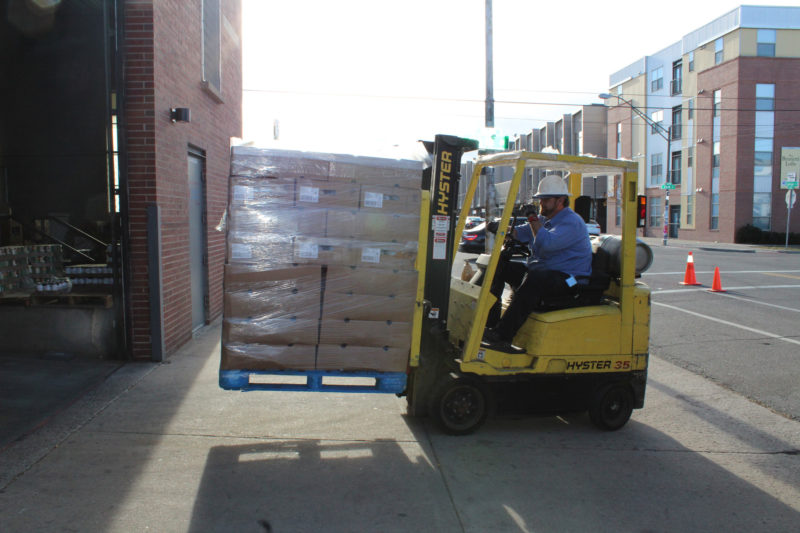 "We've seen Five Points continually change and grow over the years. Many of the clients we serve live in this area, and we feel it is our responsibility to help bridge the gap between the new and old – providing financial and material relief so that all residents have an equal opportunity to coexist peacefully and prosperously in the neighborhood in which they've made their home." says Volunteers of America Colorado's Vice President of Marketing and Development, Michael James.
The organization has always recruited volunteers from the RiNo area to deliver Meals on Wheels, serve at the Mission or participate in one of its numerous community outreach or fundraising events.
However, recently, a new objective has taken shape: partnering with successful organizations in the surrounding neighborhood in efforts to maintain the culture and diversity of the community together.
"We can't retain the culture if we don't retain the residents," explains Volunteers of America's Director of Marketing, Patina Grayson. "We can't risk losing the people that made it such a vibrant and beautiful place to live in the first place. So we're asking, 'How can the new influx of businesses and people help maintain the rich community that has been here for generations?'"
Izzio Bakery, located inside the Denver Central Market across from the Michael Kern Kitchen, is one of the organizations that Volunteers of America fondly considers a "community partner."
Every weekday morning, the Program Coordinator at City Harvest walks across the street to Izzio's loading area to collect fresh, organic baked goods. The daily collection consists of 30 to 40 pounds of bread and pastries, not sold at the heavily-trafficked bakery the day before.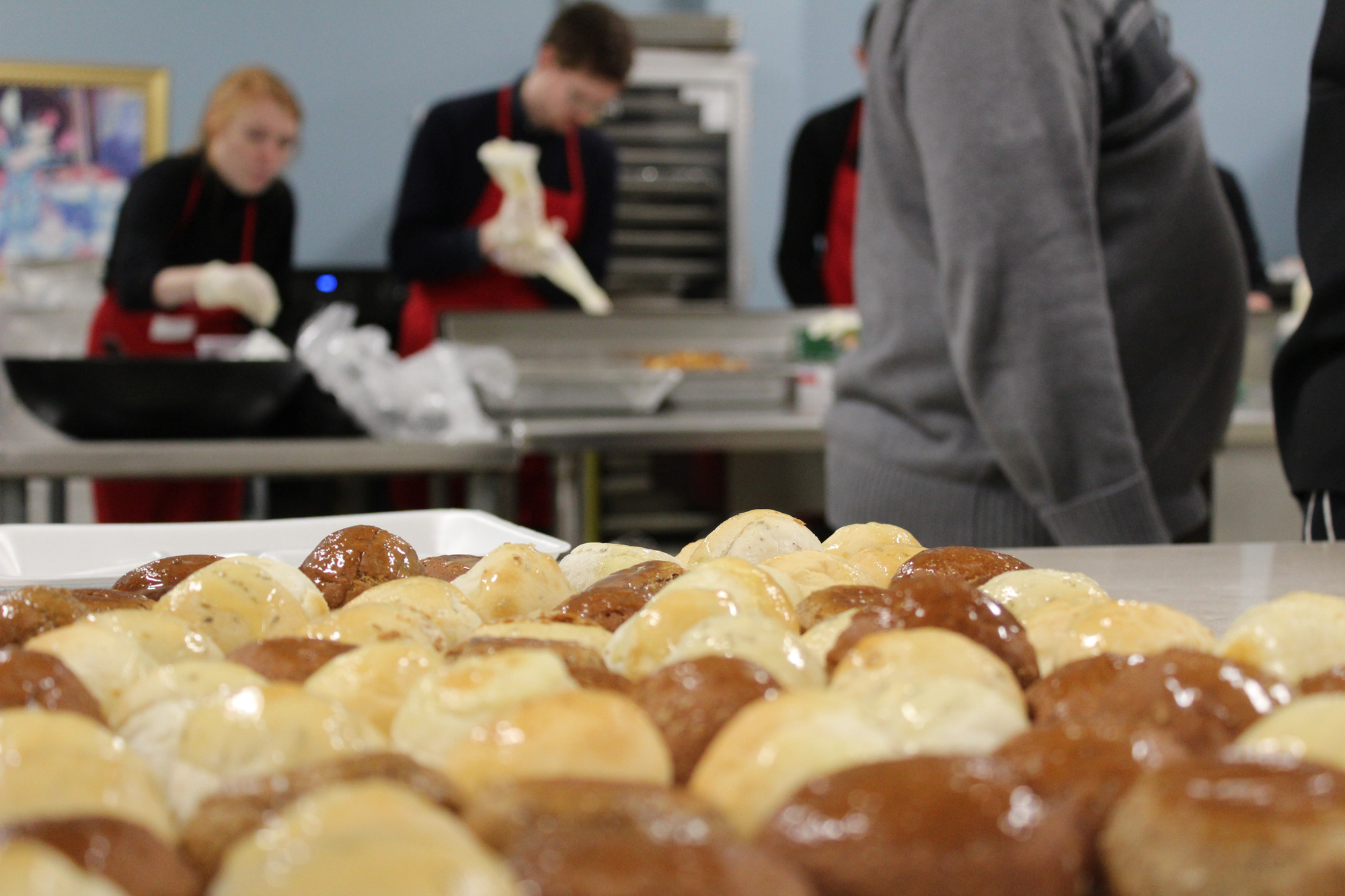 The baked goods are distributed to several Volunteers of America facilities including the Mission and the Bannock Youth and Family Center in addition to other food banks in the Denver Metro Area. They are incorporated into free meals served to the homeless and packaged in "pantry boxes," distributed weekly to local families in need. These consistent contributions ease the burden of other financial stresses including increasing rent and childcare costs.
Two blocks down the street, at Walnut and 27th Streets, is Matthew Morris Salon, another valued community partner. The salon, headed by Colorado native and beauty expert Matthew Morris, has offered their services free of charge to Volunteers of America for the Service with Style fashion show that takes place downtown annually. The signature event, which raises funds for Volunteers of America's Irving Street Women's Residence, relies on charitable service offerings from organizations like Matthew Morris in order to fulfill its ultimate goal of providing mentally and/or physically disabled women a place to stabilize and call home.
Led by Larry DiPasquale, Epicurean (Catering) Group, is another major partner helping Volunteers of America serve the local community. Twice a month, the gourmet caterer drives their food truck and a small army of dedicated volunteers to the Mission to serve a three-course meal, restaurant style, to hundreds of homeless individuals that line up around the block. Local musicians have even shown up to entertain the crowds during their sit-down meal on warm-weather days.
Bob Gitre, Project Manager and Epicurean Cares Ambassador, asserts that "giving back and making our streets of Denver a better and beautiful place" is always a worthwhile mission.
Other neighborhood organizations working with Volunteers of America to maintain the shared community include new-American RiNo eatery, The Preservery, and soon to be opened sandwich shop, Even Stevens.
As the Five Points and RiNo areas continue to develop, thrive and evolve, Volunteers of America strives to remain the longstanding pillar that binds the community, welcoming new growth while still celebrating and maintaining the vibrant street art, rich music history, ethnic diversity and cherished neighborhood culture that has been here for many decades.
The organization continues to look for new partnerships and relationships that will benefit every resident that calls Five Points home. Whether it is through corporate volunteering opportunities, in-kind service or material donations, or new avenues for fundraising efforts, there are various ways to get involved and help maintain the neighborhood as a collective, community-minded unit. If you are interested in learning more about how you can make a difference with Volunteers of America, please visit voacolorado.org or email info@voacolorado.org.