Discover The Broadmoor Manitou and Pikes Peak Cog Railway
The Broadmoor Manitou and Pikes Peak Cog Railway is the most relaxing way to climb "America's Mountain" and is re-opening in May 2021. A rebuilt track, as well as new trains, depot and Summit Visitor Center, allows you to enjoy one of the world's most unique experiences once again in grand style. 
Originally built in 1891 and owned and operated by The Broadmoor since 1925, this historic railway is the highest railroad in America and the highest cog railway in the world.

In 2018, the work began to replicate that feat and reconstruct the top tourist attraction in Colorado. The Broadmoor Manitou and Pikes Peak Cog Railway underwent a $100 million renovation. Replacing pickaxes and mules with modern technology while maintaining the same grit and determination, just over thirty skilled men and women (yes, only 30!) worked tirelessly to complete this effort. They spread ballast, laid ties and track rails to complete the route covering just under 8,000 vertical feet and nine miles to the summit of "America's Mountain."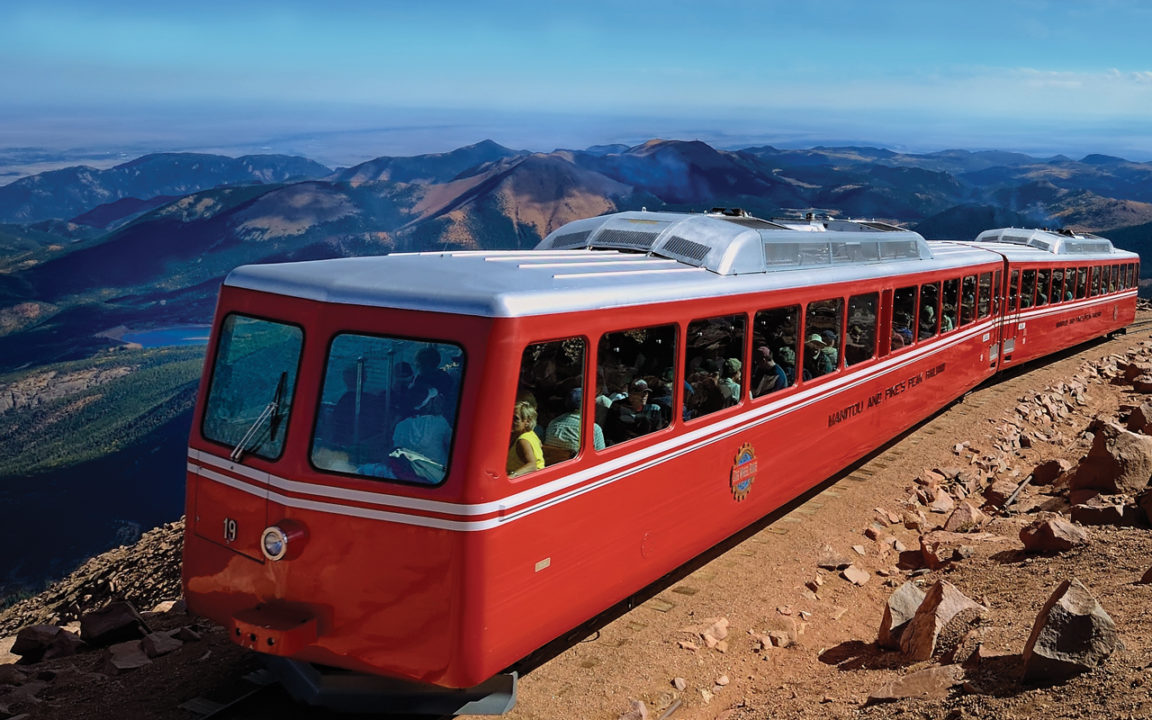 They say every journey begins with a single step. Guests start and end their journey at the new Manitou Depot, featuring an expansive passenger platform, viewing deck for photographs and two retail stores with snacks and beverages. Once at the top, guests enjoy the new fully accessible, environmentally sustainable, $60 million-plus Pikes Peak Visitor Center. In addition to the breathtaking views—made even more dramatic by a new elevated pathway and overlook designed to help protect the mountain's fragile tundra—guests can enjoy new menu options, digitally interactive displays that bring the history, significance and geology of the mountain to life, and, of course, a world-famous Pikes Peak donut.
For visitors who would like even more adventure, hiking, biking, and new trail experiences are available. Guests may forgo the round-trip train experience and hike up to Pikes Peak on the 13-mile Barr Trail and ride the train down or take the Cog up and bike down the 19.5 mile downhill adventure from the summit on a guided excursion.  Hiker reservations are available on the day of the experience on a space-available basis.
"The Cog is an important part of Colorado and the West's heritage," said Ted Johnston, assistant general manager of the Railway. "We're excited to re-open the railway for the public to experience and enjoy this scenic American adventure that has such a rich history. We've been working on this project for three years, and we are very excited to take our first trains and passengers up the mountain." 
Buy your tickets in advance online so you can plan your day, and be prepared for a wondrous, all-new journey to the top of Pikes Peak. To purchase tickets, please visit www.cograilway.com.